PRIMEVAL: NEW WORLD
Check your local TV listings
PRIMEVAL
Check your local TV listings
Thanks for taking part in our Primeval soundtrack competition! Read more about it and see the lucky winners here. Special thanks to MovieScore Media!
DVD: Volume Three
Out now
[Buy]

DVD: Series 1-5 Box Set
Out now
[Buy]

CD: Primeval Soundtrack
Out now
[Buy]

DVD: The Complete Series 5
Out now
[Buy]

DVD: The Complete Series 4
Out now
[Buy]

Primeval-Fans is a non-profit, unofficial Primeval fansite and not in contact with ITV, Impossible Pictures or the Primeval cast. The site created by fans, for fans. All pictures, videos and any other media belong to its original copyright holders and photographers. If you have any complaints or feel some of the material belongs to you please contact me before taking any action. Please read more here.

© Primeval-Fans 2010 - 2013
Ruth Bradley fans will enjoy these recent snaps of our favourite girl promoting her latest film Grabbers, which is out now. Here's also a video of her talking about the role. Thanks to Karen for the find!


2012 – Grabbers Premiere In Dublin


2012 – The British Academy Television Craft Awards

2012 – Galway Film Fleadh
With the help of Impossible Pictures I'm able to share some ultra high quality group shots from Series 4 & 5. One Cobby picture is unseen. Enjoy:


Series 4 & 5 – Group
I've typed all the best quotes from Primeval Series 3 under the same page, enjoy. You can read them while watching Watch air it again every week day at 11am and 6pm. Click here to see them.
Cutter: We're heading south.
Becker:Tell them I'm on my way.
Connor: Action Man said he's coming.
Here are some Connor pictures I got from Impossible Pictures. We've seen them all before but they're ultra high quality and I hope you enjoy them. Happy weekend everyone!


Series 4 & 5 – Connor
Despite some people continuously saying that there will be Primeval Series 6 soon, in reality it has NOT been confirmed. Quite the contrary, people involved have clearly said it's not likely to happen. Things can change but this is the current situation. Of course we all hope it would happen but posting false news doesn't help.
There have been some speculations about how long our Primeval cast will be playing in One Man, Two Guvnors. The show was originally supposed to end in autumn but was extended to next year. I asked the production team and can now confirm that Hannah Spearritt will leave the show in September. Meanwhile Ben Mansfield will continue until January 13th. If you want to see them both on stage, book your tickets now.
Hardly a surprise to anyone, the series finale attracted only 2.7 million viewers:
ITV's finale of Primeval drew just 1.7 million on Saturday (July 21) evening, its lowest terrestrial audience ever.

Only 1.38m (10.2%) chose to watch the sci-fi drama's series-five climax at 5.25pm, adding a further 327k (2.1%) on ITV1 +1.

Primeval's fifth run has already aired on Watch – averaging around 500k – as part of a co-production deal between ITV and UKTV following its initial cancellation in 2009.

Meanwhile, the franchise will continue exclusively on the digital channel with spinoff New World.
Lähde: Digital Spy
Here are unseen pictures from Hannah Spearritt and Andrew Lee Potts's photoshoot with OK! Magazine. Many thanks to Ash for the find and the main credit goes to PJ!


Photoshoots – OK! Magazine
Now that ITV has aired all five series of Primeval, which one do you love the most? I know, it's a difficult choice… I can't decide between the first and third. Then again, the second had a great storyline. I also loved the school episode so much in the fourth series and the final one is just epic…
Your favourite series?
Series 1
0%
Series 2
0%
Series 3
0%
Series 4
0%
Series 5
0%
Check out what critics made of yesterday's episode:
I still remember how excited, confused and sad I was after seeing this episode. It's one of the best.
Quote of the day

Lester: So much for being normal, Connor. A train has just left King's Cross, disappeared into thin air. Sorry, does that sound familiar to anyone? Anomalies? Chop-chop!



S05E06 – Screen captures
Watch the final episode again tomorrow at the following times:
Sunday 22 – ITV2 1:15pm
Sunday 2 – ITV2 +1 2:15pm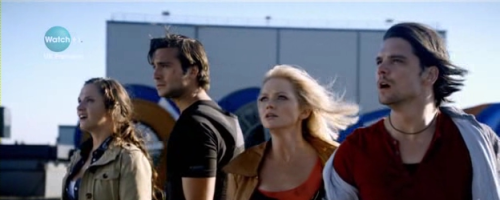 Is this the end or will we see how the story continues? The final episode of Series 6 airs tonight on ITV at 5:25pm. Don't forget to watch even if you've seen it, it's epic.
Faced with the increasing dangers of Philip's machine, the team are pitted against their darkest challenge yet as Matt's prediction appear to start coming true. As they fight to save Connor's life, the ARC is also put under threat by the onslaught of an army of future predators. As the situation worsens, the stakes are high and lives are lost as the dangerous world of anomalies comes to its climax.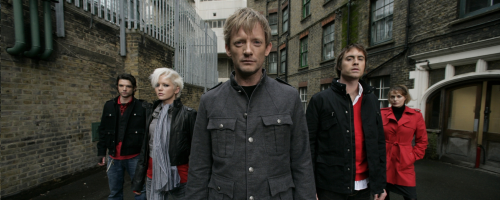 After the Series finale it's good to go back to basics with Watch: Series 1 starts on Monday at 11am with and continues with new episodes during the week from Monday to Friday. Thanks to the Arcadians for the info!
The last (ever?) Primeval episode airs on ITV on Saturday at 5:25pm. ITV has been playing with the starting times a lot so remember to get ready 5 minutes earlier than during the last few weeks. Here's a quote to get you going:
Lester: Now I've seen it all, mobile phone reception when you really need it.
Jess: What if they failed? This is the beginning of the end. Just like Matt said. What if they're all dead?
Lester: They're not dead Jess and it's not the end of the world. If it was, someone would have sent us a memo.
Here's Ben Miller talking about his character Lester and how much he loves playing him:
It seems that Lester always has to lock horns with someone. Does he ever pine for a quiet life?

"Yes, it does seem that way! I think away from it all, Lester does have a quiet life. I imagine in his home life, his wife completely runs the show. I often ask myself how a man like that takes time off, and I come to the conclusion he gets bossed around at home. Either that or he's got some very spoilt children that make his life an absolute misery."

Did you always want to get into family drama and adventure?

"It's not really genres that get me going, it's the characters. It's so much fun playing a character like Lester; someone who just sneers at everything that takes place. Someone who thinks that dinosaurs are an administrative inconvenience and the people who run the ARC are mental, have-a-go-heroes. He's so brilliantly flawed, it just makes him so fun to play. He's a man with extraordinary self-belief, but the thing is he's actually quite sweet underneath it all.

"He does care about the team, but he just can't bring himself to show it. There's a sort of contradiction at the centre of him, and those sorts of characters are always interesting. The other thing that's fun about Primeval is that it's such a huge show. It's a really huge thing. The effects they do… it's just like doing a movie. It's a very creative environment, with a large group of actors that I have got to know."
Source: Cultbox.co.uk
Because of the lovely news we just got (see the post below), I thought I'd add some exclusive Becker pictures courtesy of Impossible Pictures. Two of them we've seen before in a smaller size, the third one is compleletely new. Enjoy!

Series 4 & 5- Becker
If I interpret the following message by Impossible Pictures correctly, Ben Mansfield is getting married. Congratulations!
Congrats to Ben Mansfield on what I believe was a very wild stag-do over the weekend! if I can get a pic or two I'll post it here!