PRIMEVAL
Check your local TV listings

PRIMEVAL: NEW WORLD
Check your local TV listings
Thanks for taking part in our Primeval soundtrack competition! Read more about it and see the lucky winners here. Special thanks to MovieScore Media!
DVD: Volume Three
Out now
[Buy]

DVD: Series 1-5 Box Set
Out now
[Buy]

CD: Primeval Soundtrack
Out now
[Buy]

DVD: The Complete Series 5
Out now
[Buy]

DVD: The Complete Series 4
Out now
[Buy]

Primeval-Fans is a non-profit, unofficial Primeval fansite and not in contact with ITV, Impossible Pictures or the Primeval cast. The site created by fans, for fans. All pictures, videos and any other media belong to its original copyright holders and photographers. If you have any complaints or feel some of the material belongs to you please contact me before taking any action. Please read more here.

© Primeval-Fans 2010 - 2014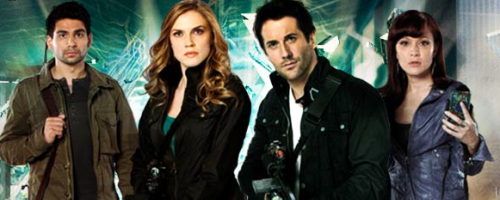 Primeval: New World takes a mid-season break and returns on Tuesday January 22 at 10 PM ET. There will be a marathon on December 28th showing all the episodes so far in case you're missing it too much.
Everybody loves Truth and no wonder. Read more opinions of it below:
CrimsonTear.com: "Truth" is the perfect episode to demonstrate how this series has taken the original Primeval concept and evolved it into something so much more realistic feeling and dramatic, and is definitely my new favourite episode of the series. All the cast and crew should be very proud of themselves! Read more
ScifiBulletin: There's some great acting on display from the entire team: Miranda Frigon, Danny Rahim and Crystal Lowe especially are thrown some curveballs by the script, and it's all held together by strong performances from Niall Matter and Sara Canning. Read more
DenOfGeek: Truth has been the best episode of the series yet, and one of three that really stand out so far from the eight. From the limited North American series I've seen so far, Primeval New World has shown itself to be similar to the series that last twenty episodes plus: setting up an intriguing plot line in episode one then not coming back to it until many episodes later. Read more
Tonight's Primeval: New World episode will air at 10E/7P on Space as usual. I've added some promotional stills to the gallery but they contain SPOILERS even if you've been watching the show. Don't click if you want to be surprised tonight.
Episode 8 – Truth

A Pachycephalosaurus shows up in the city, while Evan deals with the same Albertosaurus that killed his wife.
Primeval: New World – Promotional Stills – Episode Seven
Credit: ImpossiblePictures, Space & FarFarAwaySite.com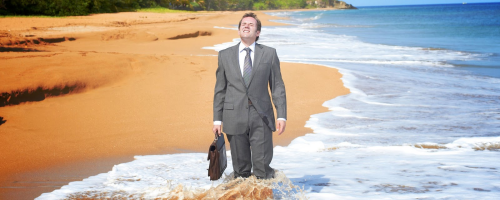 The second series of Death In Paradise starring Ben Miller (James Lester) will begin on January 8th at 9pm on BBC. The episode of James Murray (Stephen Hart) is not yet known but Hannah's appearance will be on February 12th.
Ben Miller will return for a second series of detective drama Death in Paradise on Tuesday 8 January at 9.00pm on BBC1.

Quintessentially English detective Richard Poole will be back with his investigative team to solve more murder mysteries on the idyllic Caribbean island of Sainte-Marie, this time with guest support from the likes of Stephanie Beacham, Michael Brandon, Tom Ward, Bryan Dick and – in her first role for TV – pop star Jamelia.

The first of eight episodes will see Poole probing the death of the owner of a former sugar plantation, who is discovered with a machete in his back.

Belinda Campbell, executive producer for Red Planet Pictures said of the new series: "We have a wonderful cast for Death in Paradise and our list of guest stars is equally exciting. Jamelia, in particular, was such a surprise find; she is not only a talented singer but actress too. The stories are full of humour and intrigue and hopefully the whole family will have fun trying to work out whodunnit each week. We can't wait to bring a bit of Caribbean sunshine back to the cold and wet UK!"

Series one of Death in Paradise, which was broadcast in late 2011, regularly attracted an audience in excess of six million. This second run of episodes was commissioned back in January 2012.
Source: RadioTimes
Here are the first reviews of the seventh Primeval: New World episode. It's my new favourite. Mac reminded me of Connor is many places.
CrimsonTear.com: Even though "Babes in the Woods" wasn't as suspenseful or action packed as the past episodes, it was great example of how a lighter and funnier episode can still be very entertaining when done right. Read more
ScifiBulletin: Finally, a word about the effects – there's a moment where the dino of the week runs through a puddle. Full marks to Mark Savela and the team for the finesse with which that worked. Read more
DenOfGeek: Babes In The Wood brings us to over the halfway mark of the series. So far Primeval New World has definitely been worth the watch with the CGI proving strong and the character development arguably better than the UK original, but the overall plotting and sense of drama seems considerably less than the series that inspired it. Read more
Canadians, don't forget to watch the 7th episode of Primeval: New World tonight at 10E/7P on Space. Gotta love their names, this one is called Babes in the woods.
Episode 7 – Babes in the Woods

An anomaly opens up putting Toby's friends in danger.
Here are the first reviews of the sixth Primeval: New World episode:
CrimsonTear.com: Overall, "Clean up on Aisle Three" was entertaining and fun, while setting up the possibility of huge changes for the future. Read more
SciFiBulletin: Chances are you'll want wontons when you've finished seeing this – which will make sense – and regret that we're already nearly halfway through what has to be just the debut season. Read more
DenofGeek: In conclusion, a fun drama-based episode that saw the personalities of the team shifting and deepening, supported by a basic, but enjoyable, creature hunt. Not the strongest episode, but not the weakest, and with just a few more feelings of a sense of direction permeating through the episodes, it should be on a good track to the season finale. Read more
Primeval: New World episode 6 airs tonight on Space at 10E/7P. It's called "Clean up on Aisle Three". Screen captures and reviews will follow soon, as usual.
Episode Six: Clean up on Aisle Three

Evan, Dylan and Mac confront a pack of dinosaurs that have taken over a store.
DigitalSpy is speculating on the possible return of Primeval. As pointed out many times before, it's very unlikely.
Life is unpredictable. Who could have guessed that Hugh Laurie would be transformed into a US heartthrob, Jedward would become worldwide stars by singing about their 'Lipstick' or that Dean Gaffney would one day be in the running for a job at MI5?

Sometimes people just need some stability, especially when it comes to a good bit of TV – often the only thing that saves them from snapping under the pressure of this crazy, crazy world. And that's where we at Tube Talk come in with our Q&A. The answers you've been seeking on Homeland, Merlin and more are below…

Is there any hope of Primeval UK being revived in any format? The Canadian spinoff sounds good but we miss the UK team.

We'll be honest – probably not. The two outlets most likely to back a Primeval UK revival are broadcasters ITV and Watch – the latter has its plate full with the aforementioned Canadian spinoff New World while the former is unlikely to revive the original show after neglecting the fifth series – which sank to 1.7 million in July for its last episode, the sci-fi drama's lowest terrestrial audience ever.

But if you're missing the UK team, then you can console yourself with the news that Connor (Andrew Lee Potts) resurfaces in New World and – from what we hear – plans are afoot to reintroduce more of the original show's characters if the spinoff proves to be a success.
Source: Digital Spy
Here some screen captures of the episode Undone. Enjoy! I've also added a few new shots in the promotional stills album.
Primeval: New World – Screen captures – S01E05
Review round up of Primeval: New World episode 5. I really enjoyed it (once again).
CrimsonTear.com: Fans of the original series may have noticed that this creature is smaller than that the Gorgonopsids that showed up a few times over the years. Gorgonopsids are a family of Therapsids, which range in size and appearance. Those were likely Inostrancevia or a Gorgonops, which are much larger in size. — Not only did this episode have the fun exploration that we have come to expect from this series, but it also did an amazing job at shaping the main characters with events that will shake the foundations for the entire team.Read more
SciFiBulletin.com: The interaction with the creatures is improving steadily too: there's a scene with Mac that really looks as if the dinosaur was in the studio with him, thanks to the cleverly lit effects, as well as Danny Rahim's acting. Read more
DenofGeek: Undone proves to be a surprisingly mature episode that balances the horror film stylings with some emotional and surprising developments that offset the more dodgy characterisation employed at the start of the episode, and continues a series that becomes more promising each week. It's just a shame that it still feels, at times, like a series of one-off episodes rather than something glued together by one big over-arching plot, but the elements are coming together as the team find their footing. Read more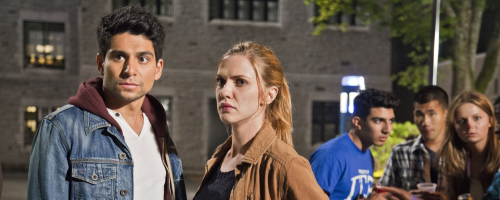 Attention Canadians, Primeval: New World episode 5 tonight on Space at 10E/7P.
Episode Five: Undone

An anomaly puts students in danger from a Lycaenops; the creature gets stranded in the present day.

The exact date for the premiere of Primeval: New World in the UK has been announced. The spin-off series will premiere on Watch on January 8th at 9pm. Thanks to SciFiBulletin and TVWise.co.uk for the information.
Here go a bunch of Primeval: New World promotional stills. I hope I've divided the pictures from episodes 5 and 6 correctly.
Primeval: New World – Promotional Stills – Episode Four
Primeval: New World – Promotional Stills – Episode Five
Primeval: New World – Promotional Stills – Episode Six
Credits: Impossible Pictures, Space and FarFarAwaySite.com
Seems like I'm not the only one behind with episode 4. I've added a few more. Be careful with spoilers though:
CrimsonTear: "Angry Birds" was an excellent episode, and its story solidifies why Gillian Horvath became an executive producer for the series. Amazing job! Read more
SciFiBulletin: Terror Birds have always been one of the races that have been difficult to get right on Primeval: feathers aren't easy to create, for a start, and there's the temptation that they can perhaps be a bit cute. The original series story with them, filmed in Dublin Jail, overcame that problem, and the claustrophobic atmosphere of this episode helps as well – I was a little dubious about the pre-credits sequence, but the scenes in the train and the yard work really well, and full kudos to Mark Savela and the team for making the birds react so well with Andy Mikita's live-action sequences. Read more
DenofGeek: Overall Angry Birds was an improvement over the filler episode three which, though an interesting story, didn't really advance the series along. — On top of that, the episode contained the strongest CGI so far with a well-rendered creature that interacted well with the scenery and got a lot of screen time, in a series that has been a bit lacklustre with the creations so far. Read more