Primeval: New World
Canada - Space - Finished
Great Britain - Watch - Tuesdays at 9pm
Germany - ProSieben - Fridays at 22:50pm
America - Syfy - June 8th 2013


For Primeval reruns, check your local TV listings
Thanks for taking part in our Primeval soundtrack competition! Read more about it and see the lucky winners here. Special thanks to MovieScore Media!
DVD: Volume Three
Out now
[Buy]

DVD: Series 1-5 Box Set
Out now
[Buy]

CD: Primeval Soundtrack
Out now
[Buy]

DVD: The Complete Series 5
Out now
[Buy]

DVD: The Complete Series 4
Out now
[Buy]

Primeval-Fans is a non-profit, unofficial Primeval fansite and not in contact with ITV, Impossible Pictures or the Primeval cast. The site created by fans, for fans. All pictures, videos and any other media belong to its original copyright holders and photographers. If you have any complaints or feel some of the material belongs to you please contact me before taking any action. Please read more here.

© Primeval-Fans 2010 - 2013
If I interpret the following message by Impossible Pictures correctly, Ben Mansfield is getting married. Congratulations!
Congrats to Ben Mansfield on what I believe was a very wild stag-do over the weekend! if I can get a pic or two I'll post it here!
I'd give yesterday's episode five stars, how about you?
I hope this isn't too difficult a question because they all really shine with their quotes. I'm gonna go for Lester though. And you, who has the best lines?
Who has the best lines?
Connor
0%
Cutter
0%
Lester
0%
Relive the best episode five moments through quotes and screen captures:
Quote of the day

Lester: You may not get the credit you deserve but you do a brilliant job and if anyone can pull us through this, you can.
Jess: That's the nicest thing you've ever said to me.
Lester: I think it's actually the nicest thing I've ever said to anyone, including my wife.


S05E05 – Screen captures
In case you missed tonight's episode, be ready tomorrow at these times:
Sunday 15 – ITV2 1:30pm
Sunday 15 – ITV2 +1 2:30pm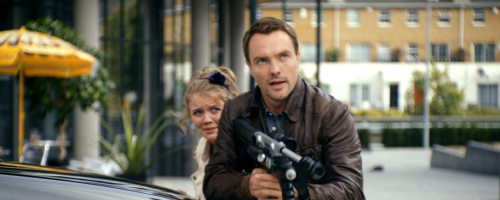 The end is getting nearer as the second last Primeval episode (ever?) airs tonight on ITV at 5.30pm. T-Rex anyone? The starting time is earlier again. Remember to watch and tweet #Primeval.
With increasing numbers of anomalies running the ARC team ragged, Matt realises his mission is coming to a climax, and determined to stop Philip, races to his machine. The team meanwhile are struggling to keep up with demand. When Philip escapes Connor's custody, the clock is ticking for them to stop him in his tracks.
True Bloodthirst (Vampyre Nation) starring Andrew Lee Potts as Harker will air tomorrow (Saturday) on Syfy channel at 9:00pm est. Those of you who are able to watch it, enjoy and let us know how it is.
I think this episode has amazing Lester moments so it's really worth watching. The T-Rex is also pretty good. So, tomorrow at 5.30pm on ITV everyone.
Lester: What have you got for me in the field? Preferably something cuddly and vegetarian because this is my best shirt.
Here's a video of lovely Lucy Brown being interviewed at Kapow! some time ago. Thanks to Karen for the find.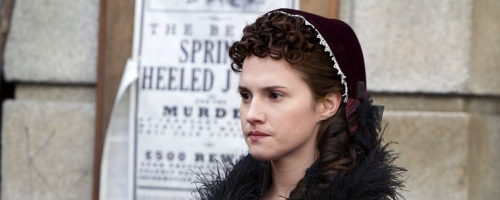 I think Emily is one of the most interesting characters in Primeval and here's Ruth Bradley talking about her:
Where would Emily like to check out if she had the chance do you think?

"I think she'd quite like the late 1960s, early 70s… part of that whole Germaine Greer feminist crew. Because she's such a strong, feisty woman who even though is from the Victorian era, doesn't act too much like a Victorian lady, I think she would have burned the corsets if she was ever in the 60s or 70s."

Would you like to burn those corsets too?

"They are a nightmare to wear, but they're kind of a brilliant diet trick. They take pounds off you!"

Let's talk guns, because, as you say, Emily is a feisty character who mixes it with all kinds of monsters…

"I love the guns! Especially the big ones! I was given some of the guys' guns so that was great fun. I had to learn how to hold them because it was a great big rifle. I think the funniest thing was trying not to make the sound of the gunshot when I held it.

"I so wanted to go 'dududududududu' whenever I held my gun! It's so like being a kid. I was five again! Not that I was shooting guns when I was five, but I definitely discovered my boy qualities again. I was loving playing with the guns!"
Source: Cultbox.co.uk
Being very clever and anticipating the obvious result I left out a certain couple of this poll (I'm sure you can guess who). So, with these options, who's your favourite Primeval couple? Leave a comment if you like.
Your favourite Primeval couple
Becker & Jess
0%
Cutter & Claudia/Jenny
0%
Matt & Emily
0%
See if you agree with these opinions on episode four:
If you weren't able to watch the episode today or want to see it again, be ready tomorrow at these times:
Sunday 8 – ITV2 1:10pm
Sunday 8 – ITV2 +1 2:10pm
Aww, such a great episode. I'm sure you all understand the quote choice, don't you? Check out the screen captures too.
Quote of the day

Becker: Here, you need to drink this. That's an order.
Jess: You're mean, you know that?
Becker: Yes, I do know that, I'm very mean. Now, drink this.
Jess: I hate you.
Becker: No, you don't.
Jess: I'm sorry. You're nice, really. You've got lovely hair. Can I touch your hair?


S05E04 – Screen captures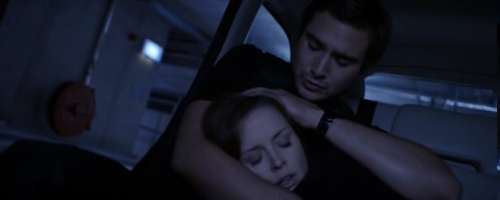 It's Primeval day today as the favourite episode of all Jesker fans airs tonight on ITV at 5.30pm. Notice the earlier starting time. Remember to watch and tweet #Primeval.
Philip and Connor secretly open an anomaly within the ARC, only to be invaded by a mass of scurrying future-beetles, who force the ARC into lockdown. The team have just moments to save the day before the ARC and the beetle threat is destroyed when Philip threatens to incinerate the building.
Are you ready for the fourth episode of Series 5 on Saturday? It's one of my favourites and I know all Jesker fans love it.
Jess: I hate insects. It's worse than spiders. It's worse than dinosaurs.
Here's Hannah analysing Abby and Primeval 5 back in 2011:
What does Series 5 hold for Abby?

"Her relationship with Connor gets a little… tricksy. All Connor and Abby have ever done is be honest with each other, but in this series they're both burdened by secrets. Both of them always try to do the right things but their worlds start to get further and further apart."

How has the relationship gone the other way so quickly?

"In one of the episodes in Series 5 Abby is let in on a secret, almost by default really because she catches Matt going into Connor's computer. So there are secrets going on. It definitely gets heavy."

Tell us about Abby's relationship with Matt…

"At first she doesn't really know what their relationship is, but as things go on she realises that Matt knows everything about her. But he never gives too much away to people and Abby is a bit wary of how closed off he is. They do make a real connection because of his love for Emily, and Abby sees this and it endears him to her.

"Trust plays a massive role in their relationship. She becomes aware of why Matt is here and that puts her in a really difficult position. And then it gets interesting – the seeds of doubt are planted in her mind for the first time about the man she loves."
Source: Cultbox.co.uk
This week's poll is all about Captain Becker since he has some great moments in episode three. Which one was your favourite?
Your favourite Becker moment?
The one with the post-impressionist
0%
The one with the alpha male
0%
The one with not obeying rules
0%