PRIMEVAL
Check your local TV listings

PRIMEVAL: NEW WORLD
Check your local TV listings
Thanks for taking part in our Primeval soundtrack competition! Read more about it and see the lucky winners here. Special thanks to MovieScore Media!
DVD: Volume Three
Out now
[Buy]

DVD: Series 1-5 Box Set
Out now
[Buy]

CD: Primeval Soundtrack
Out now
[Buy]

DVD: The Complete Series 5
Out now
[Buy]

DVD: The Complete Series 4
Out now
[Buy]

Primeval-Fans is a non-profit, unofficial Primeval fansite and not in contact with ITV, Impossible Pictures or the Primeval cast. The site created by fans, for fans. All pictures, videos and any other media belong to its original copyright holders and photographers. If you have any complaints or feel some of the material belongs to you please contact me before taking any action. Please read more here.

© Primeval-Fans 2010 - 2014
DigitalSpy is speculating on the possible return of Primeval. As pointed out many times before, it's very unlikely.
Life is unpredictable. Who could have guessed that Hugh Laurie would be transformed into a US heartthrob, Jedward would become worldwide stars by singing about their 'Lipstick' or that Dean Gaffney would one day be in the running for a job at MI5?

Sometimes people just need some stability, especially when it comes to a good bit of TV – often the only thing that saves them from snapping under the pressure of this crazy, crazy world. And that's where we at Tube Talk come in with our Q&A. The answers you've been seeking on Homeland, Merlin and more are below…

Is there any hope of Primeval UK being revived in any format? The Canadian spinoff sounds good but we miss the UK team.

We'll be honest – probably not. The two outlets most likely to back a Primeval UK revival are broadcasters ITV and Watch – the latter has its plate full with the aforementioned Canadian spinoff New World while the former is unlikely to revive the original show after neglecting the fifth series – which sank to 1.7 million in July for its last episode, the sci-fi drama's lowest terrestrial audience ever.

But if you're missing the UK team, then you can console yourself with the news that Connor (Andrew Lee Potts) resurfaces in New World and – from what we hear – plans are afoot to reintroduce more of the original show's characters if the spinoff proves to be a success.
Source: Digital Spy
Here some screen captures of the episode Undone. Enjoy! I've also added a few new shots in the promotional stills album.
Primeval: New World – Screen captures – S01E05
Review round up of Primeval: New World episode 5. I really enjoyed it (once again).
CrimsonTear.com: Fans of the original series may have noticed that this creature is smaller than that the Gorgonopsids that showed up a few times over the years. Gorgonopsids are a family of Therapsids, which range in size and appearance. Those were likely Inostrancevia or a Gorgonops, which are much larger in size. — Not only did this episode have the fun exploration that we have come to expect from this series, but it also did an amazing job at shaping the main characters with events that will shake the foundations for the entire team.Read more
SciFiBulletin.com: The interaction with the creatures is improving steadily too: there's a scene with Mac that really looks as if the dinosaur was in the studio with him, thanks to the cleverly lit effects, as well as Danny Rahim's acting. Read more
DenofGeek: Undone proves to be a surprisingly mature episode that balances the horror film stylings with some emotional and surprising developments that offset the more dodgy characterisation employed at the start of the episode, and continues a series that becomes more promising each week. It's just a shame that it still feels, at times, like a series of one-off episodes rather than something glued together by one big over-arching plot, but the elements are coming together as the team find their footing. Read more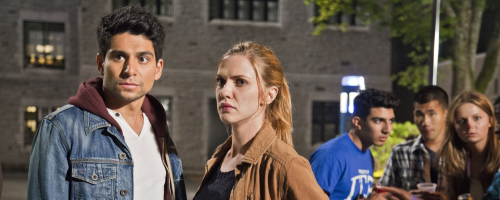 Attention Canadians, Primeval: New World episode 5 tonight on Space at 10E/7P.
Episode Five: Undone

An anomaly puts students in danger from a Lycaenops; the creature gets stranded in the present day.

The exact date for the premiere of Primeval: New World in the UK has been announced. The spin-off series will premiere on Watch on January 8th at 9pm. Thanks to SciFiBulletin and TVWise.co.uk for the information.
Here go a bunch of Primeval: New World promotional stills. I hope I've divided the pictures from episodes 5 and 6 correctly.
Primeval: New World – Promotional Stills – Episode Four
Primeval: New World – Promotional Stills – Episode Five
Primeval: New World – Promotional Stills – Episode Six
Credits: Impossible Pictures, Space and FarFarAwaySite.com
Seems like I'm not the only one behind with episode 4. I've added a few more. Be careful with spoilers though:
CrimsonTear: "Angry Birds" was an excellent episode, and its story solidifies why Gillian Horvath became an executive producer for the series. Amazing job! Read more
SciFiBulletin: Terror Birds have always been one of the races that have been difficult to get right on Primeval: feathers aren't easy to create, for a start, and there's the temptation that they can perhaps be a bit cute. The original series story with them, filmed in Dublin Jail, overcame that problem, and the claustrophobic atmosphere of this episode helps as well – I was a little dubious about the pre-credits sequence, but the scenes in the train and the yard work really well, and full kudos to Mark Savela and the team for making the birds react so well with Andy Mikita's live-action sequences. Read more
DenofGeek: Overall Angry Birds was an improvement over the filler episode three which, though an interesting story, didn't really advance the series along. — On top of that, the episode contained the strongest CGI so far with a well-rendered creature that interacted well with the scenery and got a lot of screen time, in a series that has been a bit lacklustre with the creations so far. Read more
Don't forget to watch Primeval: New World episode 4 tonight 10E/7P on Space. The episode is called Angry Birds. I don't know if I should think about the terror birds (Series 3) or the other Angry Birds (I'm from Finland).
Episode Four

Evan and Dylan are taken hostage while investigating an anomaly.
I thought this was about the blood and bodies but it's actually a language issue, according to this fun article (with no spoilers).
A Canadian spinoff of the ITV and Watch show Primeval, airing on Space, may have hit a small bump.

The new series, Primeval New World has a new British cast member, Danny Rahim as weapons expert Mac Rendell, and the script has been written accordingly, with some British epithets to boot.

Such as "shite" and "buggered off".

Which is all well and good for US and Canadian television. But probably unusable in pre-watershed Saturday afternoon British television, which is when the show has usually aired.

Did they do alternative takes? Will be get an audio dub with "awful" and "bugged" used instead?

"Sodding" should be okay these days. But even so…

Let's find out. The show will air in the UK in early 2013.
Source: BleedingCool.com
Here's a really nicely written general review of Primeval: New World. It doesn't contain any major spoilers, just overall opinions of the new show with comparisons to the original one.
Since the ending of Primeval last year, fans of the series have been waiting for the return of the series. So far it looks like the original is done, but a North American spin-off has arrived, and it is just as good as the original.

Actually, it feels very similar to the first season of Primeval. Unlike the past seasons of the original series, everyone is still in the discovery phase. There are no seasoned dinosaur hunting veterans here, just a rag-tag group who are looking for answers. This makes it easy for new viewers to jump aboard without needing prior knowledge of the original five. Also, by having a completely new team, with a visit from a fan favourite, fans of the original series can still sink their canines into it without this series feeling like a reboot of the original.

One the largest difference which fans will notice, other than the location and team, is that this series is not afraid to show the mess. Where the original Primeval would have the bloody aftermath off screen, New World delves deeper into the evisceration and lacerations inflicted to the helpless victims. While they haven't taken it to gory levels, it makes it feel more real. The deaths are still done off screen, thankfully, since people getting eaten by dinosaurs would like be too much for viewers, and the shows budget.

The dinosaurs are very close to the visual effects we saw on the fifth season of Primeval, perhaps even just a bit better. I am glad they didn't change them up too much as that would have made this series feel very different from the original. There are better looking dinosaurs out there, but for TV, they still look amazing, and terrifying.

As for the characters, they fell unbelievably real. It is very rare for a series to create great characters in the very first episode. There are still many mysteries revolving around everyone to keep them interesting too, so we don't have to worry about them feeling repetitive any time soon.

In the original Primeval, British humour filled the episodes, which made many events and characters have other meanings for international viewers, and this series will be no different. In this first episode there were several scenes where Canadians will understand events in a different light, like Project Magnet. Since it is very difficult to create a humorous situation that is universally recognized, this is something fans in the UK, when if airs in January, will have to get used to.

This series is also the second Science Fiction series aired this year that was shot in Vancouver and took place in Vancouver. It worked very well for Continuum, and so far, it works very well for Primeval: New World. It would be great if this trend continues, but to other cities as well. I am sick of seeing one city and having the writers pretend it is another.

From what I have seen, this series should be one for fans and new viewers to watch. I hope as the series continues, everything will build on this fantastic premiere and put the Primeval series back on the map.

According to comments on Twitter, everyone who watched it has found something to like or love. This is a great sign, but in the end, it will be the total amount of viewers which will determine its true success.

Reviewer's Rating: 4.5/5
Source: CrimsonTear.com
The third episode is my new favourite of New World so far. How did you like it? Here go a few other opinions, some containing major spoilers.
Den Of Geek: Primeval New World is so far enjoyable but I'm not yet convinced of its brilliance and at the moment it's behind the UK original in the fun and imagination stakes, though does benefit from a script that's a bit wittier and punchier. I wouldn't say its shaking-off of the family image of the UK version for a more-adult style is yet really paying off, unless a bloodied-corpse and the mention of sex constitutes a higher rating. Read more
SciFiBulletin: There are some genuine shocks in this, which are well-shot by regular Smallville, Supernatural and Eureka director Mike Rohl, as well as some interesting character development for the leads (or at least, those we see).Read more
ImpactOnline: Definitely an episode that should prove that audiences and the show's powers-that-be are on the right track…Read more
We've already informed you about the new and free Primeval dFX app and it's now available here. Here's also the official trailer and press release.
Add Advanced 3D CGI Dinosaurs To Your Movies with "Primeval dFX"

Dinosaurs stalk your videos with new iOS app

Robots and Pencils, makers of hit games like "Spy vs Spy" and "Catch the Princess" and great apps like "RightMove" and "Deco," announced today that their app "Primeval dFX" is live on the App Store.

Based on the breakout TV series "Primeval: New World," that premiers in 2013 in the United States, the United Kingdom, and France, "Primeval dFX" lets users add the shows' cast of breathtakingly detailed CGI dinosaurs to movies taken with iPhone and iPad.

Would-be dinosaur filmmakers can choose from over 8 3D dinosaurs including fan favorites like the raptor and Tyrannosaurus rex and add them into their videos in just a few seconds.

"Primeval dFX" features include:

· 8 dangerous prehistoric creatures like: Raptor, Beetle, T-Rex, Insect, Pteranodon, Titanoba, and the bonus Purple Raptor
· Create cool, 3D dinosaur movies using advanced Hollywood-style special effects
· Post to Facebook, email or save your videos for epic montages
· Create your own dinosaur videos in seconds

Primeval dFX was produced for Omnifilm Entertainment Ltd., by Robots and Pencils, and was developed and produced with the participation of the Bell Broadcast and New Media Fund, the Canadian Media Fund and in association with Bell Media Inc., (SPACE).

For more details on "Primeval dFX", visit: PrimevalNewWorld.com/Mobile
The third Primeval: New World episode tonight (for Canadians) at 10E/7P on Space. The episode description sounds very exciting.
Episode Three

When a cargo plane disappears into an Anomaly, Evan and Dylan attempt a search and rescue mission into the distant and dangerous past.
I've added some exciting looking promotional images from the next Primeval: New World episode. Have you noticed that the episode guides can be found on our site too. Just click here or navigate About Primeval -> Episodes -> Primeval: New World.
Primeval: New World – Promotional Stills – Episode Three
Credit: PrimevalNewWorld.com, Space, Impossible Pictures & FarFarAwaySite
Just bumping the thread a little bit.
The firsts reviews of Primeval: New World episode two are in. More to follow soon. Remember that they contain spoilers.
GeekHardShow: After last weeks episode was a bit of disappointment for me when compared to UK Primeval, this week does see some improvement overall in the acting and directing departments. — Even better, the direction felt more inline with what we should expect with Primeval. There was a greater sense of tightening of pacing this week, which allowed for more natural tension and drama throughout. Read more
SciFiBulletin: The effects work continues to be good: the interaction of the humans and the creatures sells the latter, and we're getting a lot of close-ups of the textures. The only aspect I'm not sold on so far is the theme music, which seems a little gentle for the nature of the show – but that really is a minor detail in a great continuation. Read more
DenofGeek: The show is certainly growing on me. There are enough developments in the episode of the overall arc to keep me interested with — and the script is filling up with witty lines and some interesting dialogue. The CGI is great if not spectacular, and if you ignore the plot-by-numbers, lack of any truly massive set-pieces, and quite a bland creature of the week it's an enjoyable episode that neatly establishes the set-up and advances what we know about the characters. Read more
SFX: Primeval: New World might be more serious and more character drama based than its quirky and lighthearted predecessor, but it can still be watched and enjoyed by the whole family. It's a shame dinosaurs are extinct and unable to see how popular they are with toddlers and adults. Read more
Here go some pictures of Andrew Lee Potts and Hannah Spearritt at the Virgin Media Shorts Awards, where Andrew's Little Larry was nominated in. Sadly it didn't win but it was great they were nominated. Many thanks to Twitter sources and Andrew-LeePotts.net. The quality isn't the best and I'm trying to find some professional shots too.
Andrew Lee Potts & Hannah Spearritt – Virgin Media Shorts Awards
I got an interesting e-mail this morning about a new Primeval related app. I think the video speaks for itself but here's a short extract of the introduction. The app will be out in a couple of days with more information. Excited?
The app is called Primeval dFX. It's from Robots and Pencils, the guys behind Spy vs Spy and Catch the Princess on the games side and apps like Deco and RightMove, and based on the breakout sci-fi series Primeval: New World, which is coming to the US, UK, and France in 2013.

Primeval dFX uses the 3D CGI technology that powers the dinosaur effects on the show and brings it to iOS, so you can add crazy-good dinosaur effects to movies you take with your iPhone or iPad, then save them or upload them to Facebook. So while you can't actually have raptors take out that pesky relative, you can make videos of it happening, and that's pretty cool, too.
The firsts reviews of Primeval: New World episode two are in. More to follow soon. Remember that they contain spoilers.
GeekHardShow: After last weeks episode was a bit of disappointment for me when compared to UK Primeval, this week does see some improvement overall in the acting and directing departments. — Even better, the direction felt more inline with what we should expect with Primeval. There was a greater sense of tightening of pacing this week, which allowed for more natural tension and drama throughout. Read more
SciFiBulletin: The effects work continues to be good: the interaction of the humans and the creatures sells the latter, and we're getting a lot of close-ups of the textures. The only aspect I'm not sold on so far is the theme music, which seems a little gentle for the nature of the show – but that really is a minor detail in a great continuation. Read more
CrimsonTear: While it didn't have the epic feeling the premiere had, "Sisiutl" was still an amazing episode. Everyone involved should be proud of the experience they have created so far. I can't wait for next week's episode. Read more
DenofGeek: The show is certainly growing on me. There are enough developments in the episode of the overall arc to keep me interested with Angelika Finch's motivations coming under question and Evan and Dylan's blossoming relationship and the script is filling up with witty lines and some interesting dialogue. The CGI is great if not spectacular, and if you ignore the plot-by-numbers, lack of any truly massive set-pieces, and quite a bland creature of the week it's an enjoyable episode that neatly establishes the set-up and advances what we know about the characters. Read more