PRIMEVAL
Check your local TV listings

PRIMEVAL: NEW WORLD
Check your local TV listings
Thanks for taking part in our Primeval soundtrack competition! Read more about it and see the lucky winners here. Special thanks to MovieScore Media!
DVD: Volume Three
Out now
[Buy]

DVD: Series 1-5 Box Set
Out now
[Buy]

CD: Primeval Soundtrack
Out now
[Buy]

DVD: The Complete Series 5
Out now
[Buy]

DVD: The Complete Series 4
Out now
[Buy]

Primeval-Fans is a non-profit, unofficial Primeval fansite and not in contact with ITV, Impossible Pictures or the Primeval cast. The site created by fans, for fans. All pictures, videos and any other media belong to its original copyright holders and photographers. If you have any complaints or feel some of the material belongs to you please contact me before taking any action. Please read more here.

© Primeval-Fans 2010 - 2014
Here go some pictures of Andrew Lee Potts and Hannah Spearritt at the Virgin Media Shorts Awards, where Andrew's Little Larry was nominated in. Sadly it didn't win but it was great they were nominated. Many thanks to Twitter sources and Andrew-LeePotts.net. The quality isn't the best and I'm trying to find some professional shots too.
Andrew Lee Potts & Hannah Spearritt – Virgin Media Shorts Awards
I got an interesting e-mail this morning about a new Primeval related app. I think the video speaks for itself but here's a short extract of the introduction. The app will be out in a couple of days with more information. Excited?
The app is called Primeval dFX. It's from Robots and Pencils, the guys behind Spy vs Spy and Catch the Princess on the games side and apps like Deco and RightMove, and based on the breakout sci-fi series Primeval: New World, which is coming to the US, UK, and France in 2013.

Primeval dFX uses the 3D CGI technology that powers the dinosaur effects on the show and brings it to iOS, so you can add crazy-good dinosaur effects to movies you take with your iPhone or iPad, then save them or upload them to Facebook. So while you can't actually have raptors take out that pesky relative, you can make videos of it happening, and that's pretty cool, too.
The firsts reviews of Primeval: New World episode two are in. More to follow soon. Remember that they contain spoilers.
GeekHardShow: After last weeks episode was a bit of disappointment for me when compared to UK Primeval, this week does see some improvement overall in the acting and directing departments. — Even better, the direction felt more inline with what we should expect with Primeval. There was a greater sense of tightening of pacing this week, which allowed for more natural tension and drama throughout. Read more
SciFiBulletin: The effects work continues to be good: the interaction of the humans and the creatures sells the latter, and we're getting a lot of close-ups of the textures. The only aspect I'm not sold on so far is the theme music, which seems a little gentle for the nature of the show – but that really is a minor detail in a great continuation. Read more
CrimsonTear: While it didn't have the epic feeling the premiere had, "Sisiutl" was still an amazing episode. Everyone involved should be proud of the experience they have created so far. I can't wait for next week's episode. Read more
DenofGeek: The show is certainly growing on me. There are enough developments in the episode of the overall arc to keep me interested with Angelika Finch's motivations coming under question and Evan and Dylan's blossoming relationship and the script is filling up with witty lines and some interesting dialogue. The CGI is great if not spectacular, and if you ignore the plot-by-numbers, lack of any truly massive set-pieces, and quite a bland creature of the week it's an enjoyable episode that neatly establishes the set-up and advances what we know about the characters. Read more
Don't forget to watch the second episode of Primeval: New World tonight at 10E/7P on Space. As usual, check back tomorrow for further updates.
Episode Two

Evan and Mac investigate a prehistoric sea serpent terrorizing the waters near disputed First-Nations territory. Dylan faces a crossroads when Evan recruits her to join his team.
Here's a really great Q&A at the MCM Expo with the Primeval: New World cast and Andrew, where they give away interesting curiosities about the show and refer to the original one. Some bits here and all credit goes to Primeval Denial for Part One and Part Two.
Question: And what was it about the original that you liked?

Niall Matter: Hannah Spearritt.
Sara Canning: Me too, she's lovely.
Danny Rahim: Me three!
Sara Canning: We are the Hannah Spearrit fan club. I knew that it was hugely successful and I was really fascinated by dinosaurs as a kid and it looked like fun! And take that and add a darker vision for Primeval New World and I think it'll look great.

Question: Had any of you guys seen or heard of the UK show before you got involved in the casting for this?

Niall Matter: I personally had never seen or heard of the show before. As soon as the script came across my plate I checked it out, obviously I wanted to be educated before I got into it. I really liked Andrew-Lee Potts, and I identified with him. I also really enjoyed the character of Cutter, who was short-lived, only two seasons, and then I got involved with the world of Primeval: New World. When I was wrapped, I ended up watching seasons 4 and 5 and the production values really went up and up.

Question: So you're our Captain Becker equivalent?

Danny Rahim: Well, I was trying not to say, but yes, absolutely.
Niall Matter: Absolutely.
Danny Rahim: Yes, he's our Becker equivalent.

Question: Will any hanging storylines from the original be resolved?

Niall Matter: There is potential for that to occur and potential for crossover, to learn more about what the original team went through The two shows are running in parallel, timewise.

Question: Will we find out what's happened to the old team?

Niall Matter: We don't address that in the show but as Connor Temple lives on in the new show, we assume so do the rest of the British team. We might find out more in later seasons.
Andrew Lee Potts: Lots of things are hinted at that have happened in the British team, but I can't talk about them. It's a bit ambiguous. There's a lot Connor doesn't want to share that they have to work out for themselves. You might find out a bit later. Can't say.

Question: Andrew's favourite episode?

Andrew Lee Potts: The first episode. I liked working with Douglas Henshall. And also the episode where Abby gets taken by the mer-creatures.

Question: Which cast does Andrew prefer working with?

Andrew Lee Potts: I have to go with my original cast as I've worked with them more. There's a real difference between the two, though and I had a lot of fun working on New World.

Question: A question about costumes.

Andrew Lee Potts: This hat is for New World ((indicates the one he's wearing)). There's always some sort of quirk in Connor's costumes.

Question: How much of you is in the characters?

Andrew Lee Potts: Well, unlike Niall I am a genius so have that in common with Connor. I also have a sense of humour, and I look a lot like him.
Some reviews of the first Primeval: New World are in. As usual, we'll try to keep the page spoiler-free but I'll say that I really enjoyed the Pottsy bits, general plot and the ending. The dinosaurs look better than ever too.
VancouverSun.com: The important thing to know is that Primeval: New World is both watchable and entertaining, the modern-day equivalent of '60s sci-fi TV classics like Voyage to the Bottom of the Sea and Time Tunnel. Read more
GeekHardShow.com: I still think you should check it out and support this type of production regardless of country of origin. Quality sci-fi is hard to find. With some minor tweaks, this could really become something worth watching each week. Read more
ScifiBulletin: With two constituencies to answer to – newbies and long-term fans – the balance in the script works well. It's more gory than its forebear (it gets a 14 rating in Canada) but that's no bad thing. Add in a set of effects that match the original in terms of design, and you've got a cracking start. Read more
DenofGeek: Is it is as fun and well put-together as the UK original? No, it didn't quite feel like a whole episode. Was it worth watching for forty minutes? Absolutely. The titbits of plot given to us were well built in and the dialogue was sharp and at times witty. It might sit awkwardly with some of the plot strands established in the UK Primeval but it's also happy to acknowledge them in the script. Cross seems a likeable lead and Angelika a well-scripted boss. Some of the peripheral characters will take some time to establish but this is only episode one. It's just a shame it's lacking that certain something that makes this a strong stand alone episode rather than one piece of a larger puzzle. But there's plenty to enjoy and I'm glad Primeval has got a new lease of life, even if it is one that's perhaps a little shallower than the original. But there was much to enjoy and I look forward to episode two to see how they build on the show now the characters and concept has been established.. Read more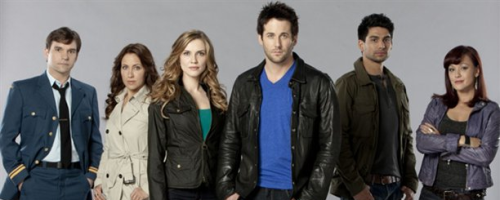 The long-awaited Primeval: New World will premiere today at 10E/7P on Space in Canada. Andrew Lee Potts aka Connor Temple will guest star the first episode, so there'll be a double reason to watch. Check back to us later for juicy screen captures, reviews and more.
EPISODE 1: THE NEW WORLD

Written by: Judith & Garfield Reeves-Stevens
Directed by: Martin Wood

When prehistoric creatures start appearing in Vancouver, it falls to a small team of civilians to handle the deadly predators, and to investigate the Anomalies in time they're coming through.

In the series premiere, a Pterandon brings death to the skies over Vancouver, while a Utahraptor threatens visitors to the city's beloved Stanley Park. Visionary inventor Evan Cross and predator expert Dylan Weir discover that these creatures are coming to the present through magnetic anomalies – mysterious portals in time and space. And for Evan, it's not the first time one of these creatures has come into his life. A devastating encounter with an Albertosaurus six years ago set him on a mission to find the Anomalies, and protect the world from the creatures that come through them.

Helped by his Special Projects Group (SPG) – Toby Nance, Evan's resident technical wizard, Mac Rendell, a British ex-pat with a yen for adventure, and Tony Drake, Evan's friend in the Predator Control office -– Evan and Dylan get more than they bargained for. And a mysterious visit from Connor Temple (from the original UK series) leaves Evan with more questions than answers.

Angelika Finch, Evan's oldest friend and the no-nonsense CFO of his company, Cross Photonics, tries to convince Evan to leave the dinosaur problem to the authorities – even going so far as to track down Lieutenant Ken Leeds at Project Magnet, the government bureau charged with handling the unexplained.

When a missing child draws our team back to Stanley Park, it's a race against time to find him – without betraying their secrets.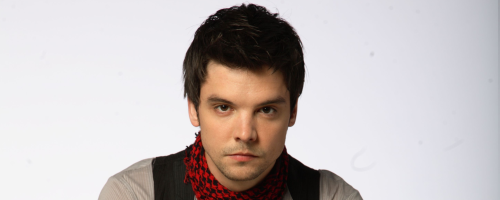 Happy birthday to the one and only Andrew Lee Potts, who turns 33 today. Congratulations! xx
According to Blogs.CoventryTelegraph.net Primeval: New World will debut in the UK in January 2013. I haven't seen any official confirmations yet but the original air times were late 2012/early 2013.
A North American spin-off of the original hit UK series, Primeval: New World features a new team battling prehistoric and futuristic creatures to save the world.

Primeval: New World will premiere on Watch in January 2013.
This feels like a candy day, only better. Check out these rare cast shots from Series 3. I hope you love them as much as I do. Click for more:
Credit: FarFarAwaySite.com
Primeval-Fans goes New World today with a picture update of the new series. For group, individual and still shots, click on the thumbnails. The sidebar has also been updated with air times (confirmed premiere October 29 on Space) and with official links.


Primeval: New World
Credit: Impossible Pictures and FarFarAwaySite.com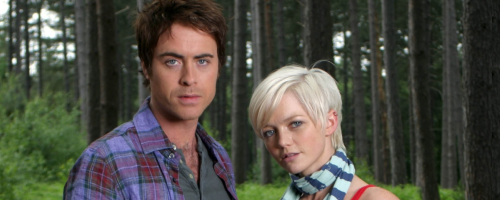 The second series of Death in Paradise will be a Primeval reunion. Both Hannah Spearritt and James Murray are confirmed to join Ben Miller on the set. It is unsure whether Hannah and James will be seen in a same episode though. The series will be shown early 2013 on BBC1.
As filming in the Caribbean continues for the second series of BBC One and Red Planet Pictures' hit drama Death in Paradise, lead actor Ben Miller (Primeval, Armstrong & Miller) is joined by even more first-class guest artists for the new series.

The Office and Shaun of the Dead star, Lucy Davis, has recently joined the continuing list of quality guest stars in the drama's second series, along with Gavin & Stacey front man, Mathew Horne and Primeval actress, Hannah Spearritt. Other home grown talent to join the island-set series include James Fleet (Little Dorrit), Lucien Laviscount (Waterloo Road), Neil Pearson (All The Small Things), Ralf Little (The Royle Family), Shaun Parkes (The Mummy Returns), James Murray (Primeval), Sean Pertwee (Dog Soldiers) and Cherie Lunghi (Secret Diary of a Call Girl).

Series regulars, Sara Martins (Little White Lies), Danny John-Jules (Red Dwarf), Don Warrington (New Street Law) and Gary Carr (The Duchess), are also joined by singer-songwriter Jamelia, Dexter Fletcher (Lock, Stock & Two Smoking Barrels), Stephanie Beacham (Trollied) and Gemma Jones (Spooks).

Thrilled at her role in the exotic series, Lucy Davis said: "It's great to be working with such a fantastic cast against the beautiful backdrop of Guadeloupe. Being filmed on location really offers a sense of authenticity and adds to the quirky comedy, so it's been brilliant to experience first-hand."

The new series sees Miller reprise his role as quintessential English detective, DI Richard Poole; a detective who is not so keen on sun, sea and sand but has found himself living and working on the paradise island of most people's dreams.

The witty and intriguing series is currently being filmed on the Caribbean island of Guadeloupe and will return to BBC One for a much anticipated second series early next year.
Source: Entertainment Focus
Here's a new article of Primeval: New World with some good nutshell information. Thanks to TBI Vision for bringing it to my knowledge.
Primeval stretched to five seasons before its run ended. Canadian broadcaster Space has now resurrected the dinosaur drama with Primeval: New World. Entertainment One is distributing and will launch it internationally at MIPCOM.

Canadian indie Omni Film (Defying Gravity) made the 13x60mins show with Impossible Pictures, which made the original series.

New World is set in British Columbia, where it was also shot and follows a team attempting to deal with prehistoric and futuristic creatures that are coming to earth through portals called anomalies. Niall Matter (Melrose Place) is the lead, playing inventor Evan Cross.

"It's a spin-off and not a reversion, which gives us much more latitude and means both stories can sit side by side; we wanted to build on the original but to make something new and ended up with something different, but true to the brand," says Gabriela Schonbach, partner at Omni Film and exec producer of the series.

German free-to-air broadcaster ProSieben and UK pay TV channel UKTV have acquired the show, which will debut on CTV's Space channel in Canada this autumn and UKTV channel Watch next year. Both were investors in the BBC Worldwide-distributed seasons of the series.

"The new show has an edge, but is definitely family viewing, according to Schonbach. "It might scare little kids, but it's family friendly," she says. "It's moderate in terms of gore although we show a little."

The show: Primeval: New World
The producers: Omni Film, Impossible Pictures
The distributor: Entertainment One
Airing: CTV (Canada), UKTV(UK), ProSieben (Germany)
Concept: Spin-off from dinosaur drama Primeval
The first trailer of Primeval: New World is finally here with plenty of Andrew Lee Potts moments. Quotes courtesy of PottsFanatic.
The creatures are the loose threads. You pull the wrong one, history unravels.

You think you're rewriting the laws of physics right? Making the world a better place?