PRIMEVAL
Check your local TV listings

PRIMEVAL: NEW WORLD
Check your local TV listings
Thanks for taking part in our Primeval soundtrack competition! Read more about it and see the lucky winners here. Special thanks to MovieScore Media!
DVD: Volume Three
Out now
[Buy]

DVD: Series 1-5 Box Set
Out now
[Buy]

CD: Primeval Soundtrack
Out now
[Buy]

DVD: The Complete Series 5
Out now
[Buy]

DVD: The Complete Series 4
Out now
[Buy]

Primeval-Fans is a non-profit, unofficial Primeval fansite and not in contact with ITV, Impossible Pictures or the Primeval cast. The site created by fans, for fans. All pictures, videos and any other media belong to its original copyright holders and photographers. If you have any complaints or feel some of the material belongs to you please contact me before taking any action. Please read more here.

© Primeval-Fans 2010 - 2014
Check out these videos of Hannah and Andrew answering to fans' questions at the Midlands Comic Con. Many thanks to our friends Primeval Arcadians and Tracy!
I liked the question where one fan asked where they would go through an anomaly (the first question in the 2nd video). Hannah wants to go to the 60's and Andrew to 2006, when they started filming Primeval.
The first reviews of Episode 12 are in. One reviewer calls it the best Primeval episode ever, including the original series. Do you agree?
CrimsonTear.com: So far 'The Sound of Thunder' is on track of being the best Primeval episode yet, including the original series. If this level of quality continues into the second part, it should make for an unforgettable season finale. Read more
Impact Online: Clearly the most ambitious episode to date, this is bigger in creative scope and visual canvas than any of the outings to date. Read more
DenofGeek: The Sound of Thunder (Part 1) borrows heavily from the old series but does build a bigger sense of scale around them with plenty of tangible fear and danger. Read more
SciFiBulletin: Soon
Check out Connor in the Primeval: New World season finale but beware of spoilers. I can't wait till Tuesday.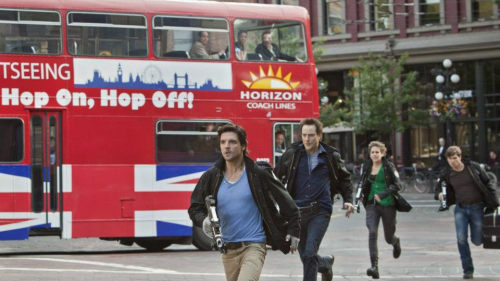 Here are some screen captures of yesterday's Death In Paradise episode (2×06). It was great to see the Primeval stars together. I hope it's alright to say that Stabby fans might get some nice memories.
Ben Miller – Death In Paradise – Screen captures
Hannah Spearritt – Death In Paradise – Screen captures
James Murray – Death In Paradise – Screen captures
Tonight's Primeval: New World episode, The Sound Of Thunder, is the first part of the season finale. Next week we'll see the return of our very own Connor Temple.
Episode Twelve: The Sound Of Thunder

Evan and Dylan must chase a Brontoscorpio through the Anomaly to get a sample of its venom after Toby is stung.
Don't forget to watch episode six, Clean Up on Aisle Three, tonight at 9pm on Watch.
Episode Six: Clean Up on Aisle Three

The team searches for a cunning pack of daemonosaurus after a security guard is killed in a home and garden store.
Images:
Primeval: New World – Screen captures – S01E06
Primeval: New World – Promotional Stills – S01E06
Reviews:
CrimsonTear.com: Overall, "Clean up on Aisle Three" was entertaining and fun, while setting up the possibility of huge changes for the future. Read more
SciFiBulletin: Chances are you'll want wontons when you've finished seeing this – which will make sense – and regret that we're already nearly halfway through what has to be just the debut season. Read more
DenofGeek: In conclusion, a fun drama-based episode that saw the personalities of the team shifting and deepening, supported by a basic, but enjoyable, creature hunt. Not the strongest episode, but not the weakest, and with just a few more feelings of a sense of direction permeating through the episodes, it should be on a good track to the season finale. Read more
SFX: We're almost half way through the series and there's still the frozen body in the freezer to name, and finding the whereabouts of the Terror Bird that Leed's kidnapped. This is just the beginning, and it's been a pretty good start. Read more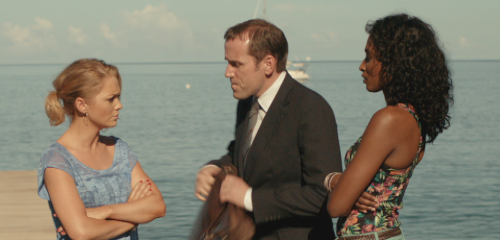 Tonight's Death In Paradise episode is packed with Primeval cast. Besides Ben Miller (James Lester) we'll see Hannah Spearritt (Abby Maitland) as Lily Shaw and James Murray (Stephen Hart) as Ronnie. Watch it at 9pm on BBC1.
An English tourist is strangled in her villa by a killer using the victim's scarf. The crime scene indicates a robbery gone wrong, but DI Poole recalls an almost identical case back in London. He grows even more suspicious when the victim's husband turns out to be crooked former colleague Doug Anderson, a name he had hoped was consigned to the past. But even though he has a watertight alibi and the team move on to further leads, Poole can't shake the notion that his old adversary is somehow involved. Ben Miller stars, with guest appearances from Neil Pearson, Ralf Little and Miller's former Primeval co-stars Hannah Spearritt and James Murray.
These are the first reviews of The Inquisition, more to follow soon:
CrimsonTear.com: 'The Inquisition' wouldn't have been anything if not for the amazing quality of the acting. Read more
ImpactOnline: The fact is that though there's information in spades and some interesting debate-worthy motivations revealed, this is very much all setup for what's to come, getting people where they need to be and dusting off the toy-box for playtime. Read more
DenofGeek: The Inquisition was another strong episode, different from what we've had before, and though there's a big feeling of familiarity with its plotting, is building up week-on-week to concentrate on the overall plot. Read more
SciFiBulletin.com: It may not have the fast-paced action of some of the earlier instalments of the series, but this episode is, in many ways, the most 'adult' and most different from the British original. Read more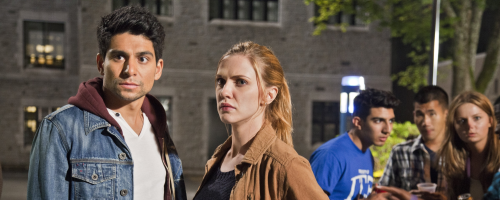 Primeval: New World continues with episode five called Undone at 9pm on Watch (the UK).
Episode Five: Undone

An anomaly opens on a university campus and a Lycaenops emerges and attacks a student. However, the anomaly closes before the SPG team can return the creature home. Meanwhile, Mac's girlfriend continues her quest to join the unit.
Images:
Primeval: New World – Screen captures – S01E05
Primeval: New World – Promotional Stills – S01E05
Reviews:
CrimsonTear.com: Fans of the original series may have noticed that this creature is smaller than that the Gorgonopsids that showed up a few times over the years. Gorgonopsids are a family of Therapsids, which range in size and appearance. Those were likely Inostrancevia or a Gorgonops, which are much larger in size. — Not only did this episode have the fun exploration that we have come to expect from this series, but it also did an amazing job at shaping the main characters with events that will shake the foundations for the entire team.Read more
SciFiBulletin.com: The interaction with the creatures is improving steadily too: there's a scene with Mac that really looks as if the dinosaur was in the studio with him, thanks to the cleverly lit effects, as well as Danny Rahim's acting. Read more
DenofGeek: Undone proves to be a surprisingly mature episode that balances the horror film stylings with some emotional and surprising developments that offset the more dodgy characterisation employed at the start of the episode, and continues a series that becomes more promising each week. It's just a shame that it still feels, at times, like a series of one-off episodes rather than something glued together by one big over-arching plot, but the elements are coming together as the team find their footing. Read more
SFX: The final moments of the episode is beautifully shot and acted — Read more
Attention Canada, remember to watch The Inquisition today at 10 PM EST on Space. Again, the picture is from behind the scenes and I'm pretty sure the atmosphere won't be that relaxed tonight.
Episode Eleven: The Inquisition

Dylan wants answers about the government's secret lab; Evan goes up against Colonel Henderson Hall.
The Great Escape got mainly good reviews from around the internet, check them out but please remember that they contain spoilers.
ScifiBulletin: Amanda Tapping's skills as a director continue to sharpen. — Another strong episode that maybe gives a few signposts to the season climax. Read more
CrimsonTear: Overall, I found "The Great Escape" to be an amazing experience. The acting was great across the board, the story felt very well writen, and everything fell into place exceptionally. The cast and crew all did a great job. I only wish that more of the main cast could have been a part of it. Read more
ImpactOnline: The tenth episode of Primeval: New World attempts to pull off a lighter cast line-up while, at the same time, majorly advancing some of the ideas of where the series is heading in its over-all arc. Read more
DenOfGeek: The Great Escape is one of the better episodes of the series so far and following on from the previous one proves that the mid-season break has triggered an improvement in the episodes. Read more