PRIMEVAL
Check your local TV listings

PRIMEVAL: NEW WORLD
Check your local TV listings
Thanks for taking part in our Primeval soundtrack competition! Read more about it and see the lucky winners here. Special thanks to MovieScore Media!
DVD: Volume Three
Out now
[Buy]

DVD: Series 1-5 Box Set
Out now
[Buy]

CD: Primeval Soundtrack
Out now
[Buy]

DVD: The Complete Series 5
Out now
[Buy]

DVD: The Complete Series 4
Out now
[Buy]

Primeval-Fans is a non-profit, unofficial Primeval fansite and not in contact with ITV, Impossible Pictures or the Primeval cast. The site created by fans, for fans. All pictures, videos and any other media belong to its original copyright holders and photographers. If you have any complaints or feel some of the material belongs to you please contact me before taking any action. Please read more here.

© Primeval-Fans 2010 - 2014
These are the first reviews of The Inquisition, more to follow soon:
CrimsonTear.com: 'The Inquisition' wouldn't have been anything if not for the amazing quality of the acting. Read more
ImpactOnline: The fact is that though there's information in spades and some interesting debate-worthy motivations revealed, this is very much all setup for what's to come, getting people where they need to be and dusting off the toy-box for playtime. Read more
DenofGeek: The Inquisition was another strong episode, different from what we've had before, and though there's a big feeling of familiarity with its plotting, is building up week-on-week to concentrate on the overall plot. Read more
SciFiBulletin.com: It may not have the fast-paced action of some of the earlier instalments of the series, but this episode is, in many ways, the most 'adult' and most different from the British original. Read more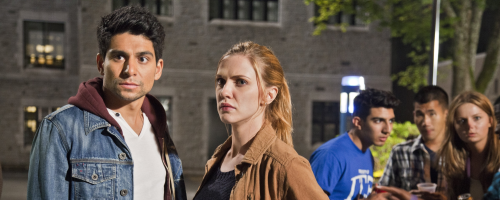 Primeval: New World continues with episode five called Undone at 9pm on Watch (the UK).
Episode Five: Undone

An anomaly opens on a university campus and a Lycaenops emerges and attacks a student. However, the anomaly closes before the SPG team can return the creature home. Meanwhile, Mac's girlfriend continues her quest to join the unit.
Images:
Primeval: New World – Screen captures – S01E05
Primeval: New World – Promotional Stills – S01E05
Reviews:
CrimsonTear.com: Fans of the original series may have noticed that this creature is smaller than that the Gorgonopsids that showed up a few times over the years. Gorgonopsids are a family of Therapsids, which range in size and appearance. Those were likely Inostrancevia or a Gorgonops, which are much larger in size. — Not only did this episode have the fun exploration that we have come to expect from this series, but it also did an amazing job at shaping the main characters with events that will shake the foundations for the entire team.Read more
SciFiBulletin.com: The interaction with the creatures is improving steadily too: there's a scene with Mac that really looks as if the dinosaur was in the studio with him, thanks to the cleverly lit effects, as well as Danny Rahim's acting. Read more
DenofGeek: Undone proves to be a surprisingly mature episode that balances the horror film stylings with some emotional and surprising developments that offset the more dodgy characterisation employed at the start of the episode, and continues a series that becomes more promising each week. It's just a shame that it still feels, at times, like a series of one-off episodes rather than something glued together by one big over-arching plot, but the elements are coming together as the team find their footing. Read more
SFX: The final moments of the episode is beautifully shot and acted — Read more
Attention Canada, remember to watch The Inquisition today at 10 PM EST on Space. Again, the picture is from behind the scenes and I'm pretty sure the atmosphere won't be that relaxed tonight.
Episode Eleven: The Inquisition

Dylan wants answers about the government's secret lab; Evan goes up against Colonel Henderson Hall.
The Great Escape got mainly good reviews from around the internet, check them out but please remember that they contain spoilers.
ScifiBulletin: Amanda Tapping's skills as a director continue to sharpen. — Another strong episode that maybe gives a few signposts to the season climax. Read more
CrimsonTear: Overall, I found "The Great Escape" to be an amazing experience. The acting was great across the board, the story felt very well writen, and everything fell into place exceptionally. The cast and crew all did a great job. I only wish that more of the main cast could have been a part of it. Read more
ImpactOnline: The tenth episode of Primeval: New World attempts to pull off a lighter cast line-up while, at the same time, majorly advancing some of the ideas of where the series is heading in its over-all arc. Read more
DenOfGeek: The Great Escape is one of the better episodes of the series so far and following on from the previous one proves that the mid-season break has triggered an improvement in the episodes. Read more
The busy Primeval fan night continues with episode four airing in the UK at 9pm on Watch. Also, Death In Paradise with Ben Miller is on at the same time on BBC1.
Episode Four: Angry Birds

Evan and Dylan investigate an anomaly in a vintage train yard, only to end up being taken hostage by drug dealers.
Images:
Primeval: New World – Screen captures – S01E04
Primeval: New World – Promotional Stills – S01E04
Reviews:
CrimsonTear: "Angry Birds" was an excellent episode, and its story solidifies why Gillian Horvath became an executive producer for the series. Amazing job! Read more
SciFiBulletin: Terror Birds have always been one of the races that have been difficult to get right on Primeval: feathers aren't easy to create, for a start, and there's the temptation that they can perhaps be a bit cute. The original series story with them, filmed in Dublin Jail, overcame that problem, and the claustrophobic atmosphere of this episode helps as well – I was a little dubious about the pre-credits sequence, but the scenes in the train and the yard work really well, and full kudos to Mark Savela and the team for making the birds react so well with Andy Mikita's live-action sequences. Read more
DenofGeek: Overall Angry Birds was an improvement over the filler episode three which, though an interesting story, didn't really advance the series along. — On top of that, the episode contained the strongest CGI so far with a well-rendered creature that interacted well with the scenery and got a lot of screen time, in a series that has been a bit lacklustre with the creations so far. Read more
SFX: "Angry Birds" has the best humour, CGI, and character and plot development in the series so far and really raises the bar for episodes to come. Read more
Time goes by so fast and we're already in the 10th episode in Canada. Remember to watch The Great Escape today at 10 PM EST on Space. P.S. The picture is from behind the scenes, I don't think Dylan and Evan will have much time to joke around tonight.
Episode Ten: The Great Escape

Leggy, a baby Terror Bird, has grown up and escaped a government laboratory.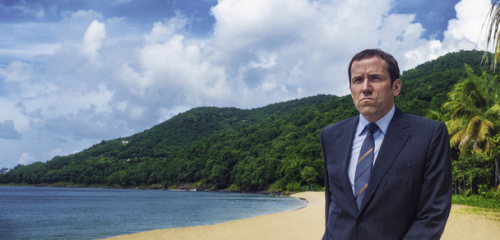 Here's the episode synopsis of Hannah Spearritt's and James Murray's Death In Paradise appearance alongside with Ben Miller:
Death In Paradise: Episode Six
Tuesday 12 February
9.00pm on BBC1

When an English tourist is found dead in her luxury villa, strangled by her own scarf, the crime scene initially indicates a robbery gone wrong. However, shrewd Richard notes that the situation is eerily similar to a case he heard about back in London.

He becomes even more suspicious when former corrupt colleague, Doug Anderson (played by Neil Pearson), turns out to be the victim's husband. Riled by his presence and convinced he murdered his wife, Richard is frustrated further when Doug's alibi is watertight.

With Doug ruled out as a suspect, the team's attention turns the villa's owners, Will (played by Ralf Little), and Ronnie (played by James Murray) who are acting suspiciously, and the victim's sister, Janice (played by Matilda Ziegler) who it turns out could also have a motive…

However, Richard still can't get past the idea that Doug is somehow involved. Are DI Poole's personal feelings clouding his usually impeccable judgement?

DI Richard Poole is played by Ben Miller, Camille Bordey by Sara Martins, Doug Anderson by Neil Pearson, Will by Ralf Little, Ronnie by James Murray, Lily by Hannah Spearritt and Janice by Matilda Ziegler.
Source: BBC
Here are first reviews of Breakthrough. Everybody seems to love Colin Ferguson and his interesting character. The reviews obviously contain spoilers, some more than others. The bits below have only general insights.
I've also updated the promo images album.
CrimsonTear: This episode really was a breakthrough, not only for the characters, but for the direction of the story. For most of this first season it was primarily about the team clumsily learning about the Anomalies, but now new, much darker, directions are being revealed. This series needed a more complex story to drive it forward, so bring it on! Read more
SciFiBulletin: There's not the balls to the wall action of some episodes, but some very promising forward movement. Read more
ImpactOnline: Primeval: New World may have been perceived as merely a spin-off, but it is now a success in its own right and with it rolling out internationally (already begun in the UK and coming to France and the US later this year), one suspects that the show's firm foundations will help it go from strength-to-strength. There's a real feeling that the show is building towards something and it will be interesting to follow it to see how that steady evolution take place. Read more
DenofGeek: Breakthrough is an interesting and well set-up episode from the start and is actually one of the best episodes so far. The break seems to have re-invigorated the series and there are plenty of interesting plot strands set-up in this episode as well as previous ones discussed. It feels much stronger than the first half and would have given the previous episodes a boost if an episode of this quality had appeared mid-way through the original run. Read more
There are plenty of Primeval reunions going on at the moment.
• Ben Miller confirmed that both Hannah Spearritt AND Stephen Murray will appear in the 6th episode of Death Of Paradise, that is February 12th at 9pm on BBC1. Thanks for Tracy for the info!
• Andrew Lee Potts is shooting a music video for Neil Jackson and lovely Lucy Brown (Claudia Brown/Jenny Lewis) is in it too.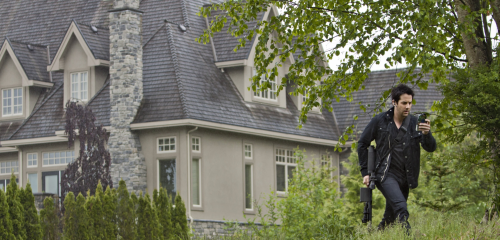 Tuesdays are big days for Primeval fans because both Canada and the UK are showing PNW tonight. Primeval: New World returns to the Canadian screens tonight at a different time slot at 10 PM EST. I couldn't find an episode description but it will be updated asap.
It's time for the 3rd Primeval: New World episode in the UK, remember to watch Fear Of Flying at 9pm on Watch. It's one of my favourites.
Episode Three: Fear Of Flying

When a cargo plane disappears into an Anomaly, Evan and Dylan embark on a daring search and rescue mission. They find the plane and its crew stranded in the distant past and there's no way home unless they can get the damaged plane flying.
Images:
Primeval: New World – Screen captures – S01E03
Primeval: New World – Promotional Stills – Episode S01E03
Reviews:
Den Of Geek: Primeval New World is so far enjoyable but I'm not yet convinced of its brilliance and at the moment it's behind the UK original in the fun and imagination stakes, though does benefit from a script that's a bit wittier and punchier. I wouldn't say its shaking-off of the family image of the UK version for a more-adult style is yet really paying off, unless a bloodied-corpse and the mention of sex constitutes a higher rating. Read more
SciFiBulletin: There are some genuine shocks in this, which are well-shot by regular Smallville, Supernatural and Eureka director Mike Rohl, as well as some interesting character development for the leads (or at least, those we see).Read more
ImpactOnline: Definitely an episode that should prove that audiences and the show's powers-that-be are on the right track… Read more
CrimsonTear: While "Fear of Flying" felt very slow in the middle of the episode, the character building and excitement, especially at the end, made this a great episode… Read more
SFX: Aside from the shocker of *beep* and the queen beetle aside, "Fear Of Flying" deserves a massive round of yawns. Read more
Finally we have picture confirmation of the fact that Andrew Lee Potts will appear in the season finale of Primeval: New World. I'm quoting Tracy when I say that the episode is supposed to take place in London. Many thanks to Andrew-LeePotts.net and MySecretPrimevalLife.
Andrew Lee Potts filming Primeval: New World finale
Here's a megapost about the second Primeval: New World episode airing on Watch tonight at 9pm. It's called Sisiutl, which means "one of the most powerful crests, and mythological creatures in the mythology of the Kwakwaka'wakw, Nuu-chah-nulth, Skwxwu7mesh and various other Indigenous peoples of the Pacific Northwest Coast."
Episode Two: Sisiutl

The team investigates two deaths seemingly caused by an aquatic monster in a lake that is in an area contested by the native Canadian people and an oil pipeline company.
Images:
Primeval: New World – Screen captures – Episode Two
Primeval: New World – Promotional Stills – Episode Two
Reviews:
GeekHardShow: After last weeks episode was a bit of disappointment for me when compared to UK Primeval, this week does see some improvement overall in the acting and directing departments. — Even better, the direction felt more inline with what we should expect with Primeval. There was a greater sense of tightening of pacing this week, which allowed for more natural tension and drama throughout. Read more
SciFiBulletin: The effects work continues to be good: the interaction of the humans and the creatures sells the latter, and we're getting a lot of close-ups of the textures. The only aspect I'm not sold on so far is the theme music, which seems a little gentle for the nature of the show – but that really is a minor detail in a great continuation. Read more
CrimsonTear: While it didn't have the epic feeling the premiere had, "Sisiutl" was still an amazing episode. Everyone involved should be proud of the experience they have created so far. I can't wait for next week's episode. Read more
DenofGeek: The show is certainly growing on me. There are enough developments in the episode of the overall arc to keep me interested with Angelika Finch's motivations coming under question and Evan and Dylan's blossoming relationship and the script is filling up with witty lines and some interesting dialogue. The CGI is great if not spectacular, and if you ignore the plot-by-numbers, lack of any truly massive set-pieces, and quite a bland creature of the week it's an enjoyable episode that neatly establishes the set-up and advances what we know about the characters. Read more
SFX: Primeval: New World might be more serious and more character drama based than its quirky and lighthearted predecessor, but it can still be watched and enjoyed by the whole family. It's a shame dinosaurs are extinct and unable to see how popular they are with toddlers and adults. Read more
Picture credits: ImpossiblePictures, Space & FarFarAwaySite.com