PRIMEVAL
Check your local TV listings

PRIMEVAL: NEW WORLD
Check your local TV listings
Thanks for taking part in our Primeval soundtrack competition! Read more about it and see the lucky winners here. Special thanks to MovieScore Media!
DVD: Volume Three
Out now
[Buy]

DVD: Series 1-5 Box Set
Out now
[Buy]

CD: Primeval Soundtrack
Out now
[Buy]

DVD: The Complete Series 5
Out now
[Buy]

DVD: The Complete Series 4
Out now
[Buy]

Primeval-Fans is a non-profit, unofficial Primeval fansite and not in contact with ITV, Impossible Pictures or the Primeval cast. The site created by fans, for fans. All pictures, videos and any other media belong to its original copyright holders and photographers. If you have any complaints or feel some of the material belongs to you please contact me before taking any action. Please read more here.

© Primeval-Fans 2010 - 2014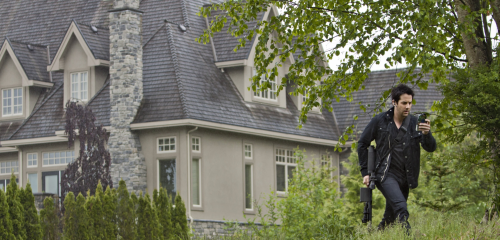 Tuesdays are big days for Primeval fans because both Canada and the UK are showing PNW tonight. Primeval: New World returns to the Canadian screens tonight at a different time slot at 10 PM EST. I couldn't find an episode description but it will be updated asap.
It's time for the 3rd Primeval: New World episode in the UK, remember to watch Fear Of Flying at 9pm on Watch. It's one of my favourites.
Episode Three: Fear Of Flying

When a cargo plane disappears into an Anomaly, Evan and Dylan embark on a daring search and rescue mission. They find the plane and its crew stranded in the distant past and there's no way home unless they can get the damaged plane flying.
Images:
Primeval: New World – Screen captures – S01E03
Primeval: New World – Promotional Stills – Episode S01E03
Reviews:
Den Of Geek: Primeval New World is so far enjoyable but I'm not yet convinced of its brilliance and at the moment it's behind the UK original in the fun and imagination stakes, though does benefit from a script that's a bit wittier and punchier. I wouldn't say its shaking-off of the family image of the UK version for a more-adult style is yet really paying off, unless a bloodied-corpse and the mention of sex constitutes a higher rating. Read more
SciFiBulletin: There are some genuine shocks in this, which are well-shot by regular Smallville, Supernatural and Eureka director Mike Rohl, as well as some interesting character development for the leads (or at least, those we see).Read more
ImpactOnline: Definitely an episode that should prove that audiences and the show's powers-that-be are on the right track… Read more
CrimsonTear: While "Fear of Flying" felt very slow in the middle of the episode, the character building and excitement, especially at the end, made this a great episode… Read more
SFX: Aside from the shocker of *beep* and the queen beetle aside, "Fear Of Flying" deserves a massive round of yawns. Read more
Finally we have picture confirmation of the fact that Andrew Lee Potts will appear in the season finale of Primeval: New World. I'm quoting Tracy when I say that the episode is supposed to take place in London. Many thanks to Andrew-LeePotts.net and MySecretPrimevalLife.
Andrew Lee Potts filming Primeval: New World finale
Here's a megapost about the second Primeval: New World episode airing on Watch tonight at 9pm. It's called Sisiutl, which means "one of the most powerful crests, and mythological creatures in the mythology of the Kwakwaka'wakw, Nuu-chah-nulth, Skwxwu7mesh and various other Indigenous peoples of the Pacific Northwest Coast."
Episode Two: Sisiutl

The team investigates two deaths seemingly caused by an aquatic monster in a lake that is in an area contested by the native Canadian people and an oil pipeline company.
Images:
Primeval: New World – Screen captures – Episode Two
Primeval: New World – Promotional Stills – Episode Two
Reviews:
GeekHardShow: After last weeks episode was a bit of disappointment for me when compared to UK Primeval, this week does see some improvement overall in the acting and directing departments. — Even better, the direction felt more inline with what we should expect with Primeval. There was a greater sense of tightening of pacing this week, which allowed for more natural tension and drama throughout. Read more
SciFiBulletin: The effects work continues to be good: the interaction of the humans and the creatures sells the latter, and we're getting a lot of close-ups of the textures. The only aspect I'm not sold on so far is the theme music, which seems a little gentle for the nature of the show – but that really is a minor detail in a great continuation. Read more
CrimsonTear: While it didn't have the epic feeling the premiere had, "Sisiutl" was still an amazing episode. Everyone involved should be proud of the experience they have created so far. I can't wait for next week's episode. Read more
DenofGeek: The show is certainly growing on me. There are enough developments in the episode of the overall arc to keep me interested with Angelika Finch's motivations coming under question and Evan and Dylan's blossoming relationship and the script is filling up with witty lines and some interesting dialogue. The CGI is great if not spectacular, and if you ignore the plot-by-numbers, lack of any truly massive set-pieces, and quite a bland creature of the week it's an enjoyable episode that neatly establishes the set-up and advances what we know about the characters. Read more
SFX: Primeval: New World might be more serious and more character drama based than its quirky and lighthearted predecessor, but it can still be watched and enjoyed by the whole family. It's a shame dinosaurs are extinct and unable to see how popular they are with toddlers and adults. Read more
Picture credits: ImpossiblePictures, Space & FarFarAwaySite.com
Primeval: New World debuts tonight in the UK on our favourite channel Watch, so tune in at 9.00pm. As you all probably know, gorgeous Connor Temple will guest star the first episode so there's one good reason to watch. Here's a megapost containing all the important bits and pieces of tonight. I shall update the review selection with more UK opinions later. Remember to read them after the episode :)
Episode One: The New World

When prehistoric creatures start appearing in Vancouver, it falls to a small team of civilians to handle the deadly predators, and to investigate the anomalies in time they're coming through.
Images:
Primeval: New World – Screen captures – S01E01
Primeval: New World – Promotional stills – S01E01
Reviews:
VancouverSun.com: The important thing to know is that Primeval: New World is both watchable and entertaining, the modern-day equivalent of '60s sci-fi TV classics like Voyage to the Bottom of the Sea and Time Tunnel. Read more
GeekHardShow.com: I still think you should check it out and support this type of production regardless of country of origin. Quality sci-fi is hard to find. With some minor tweaks, this could really become something worth watching each week. Read more
ScifiBulletin: With two constituencies to answer to – newbies and long-term fans – the balance in the script works well. It's more gory than its forebear (it gets a 14 rating in Canada) but that's no bad thing. Add in a set of effects that match the original in terms of design, and you've got a cracking start. Read more
DenofGeek: Is it is as fun and well put-together as the UK original? No, it didn't quite feel like a whole episode. Was it worth watching for forty minutes? Absolutely. The titbits of plot given to us were well built in and the dialogue was sharp and at times witty. It might sit awkwardly with some of the plot strands established in the UK Primeval but it's also happy to acknowledge them in the script. Cross seems a likeable lead and Angelika a well-scripted boss. Some of the peripheral characters will take some time to establish but this is only episode one. It's just a shame it's lacking that certain something that makes this a strong stand alone episode rather than one piece of a larger puzzle. But there's plenty to enjoy and I'm glad Primeval has got a new lease of life, even if it is one that's perhaps a little shallower than the original. But there was much to enjoy and I look forward to episode two to see how they build on the show now the characters and concept has been established.. Read more
Picture credits: ImpossiblePictures, Space & FarFarAwaySite.com
Let's take a headstart to the next Primeval: New World episode on Space (airing on January 22) with these promotional stills. Dylan looks great in red. I also took the liberty to compare our two favourite shows again.
Primeval: New World – Promotional Stills – Episode Nine
Credit: ImpossiblePictures, Space & FarFarAwaySite.com
Andrew Lee Potts has uploaded a funny New Year video with Stanley the dog. He talks about the past year and about what can be expected in 2013 from Keychain Productions. Amongst other things, there will be another Little Lilly film.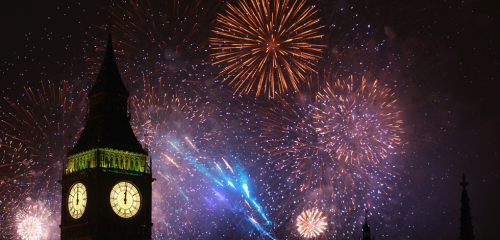 Happy New Year everyone! Thanks for 2012, it's been a lot fun. Next year we'll get to see more of Primeval: New World when it continues on Space (January 22) and starts in the UK on Watch (January 8). America and Germany will probably get to see it too although there are no confirmed dates yet. Here's the last quote of 2012, enjoy:
Lester: Do you always bring this much stuff to work?
Connor: Uh, yes. I like to be prepared.
Lester: I know some of the creatures can be frightening but surely this many pairs of underpants is overdoing it.

S03E05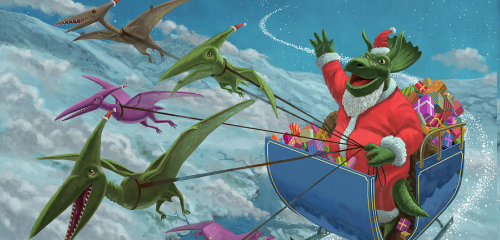 I'd like to wish you all a very happy Christmas! Thanks for visiting us, you're the reason I'm doing this. Have a roartastic Christmas and I'll see you after the holidays.
Picture credit: FineArtAmerica & Martin Davey
Watch has confirmed the date and time-slot of Primeval: New World in the UK. The spin-off will start on Tuesday January 8th at 9pm. This means I'll be busy on Tuesdays since next year SPACE is also showing the show that day. Check out their official Facebook page here. I love their new slogan:
They're back and this time they've got a new diet. Canadians.
Happy December 21st, also known as the end of the world.
Lester: They're not dead Jess and it's not the end of the world. If it was, someone would have sent us a memo.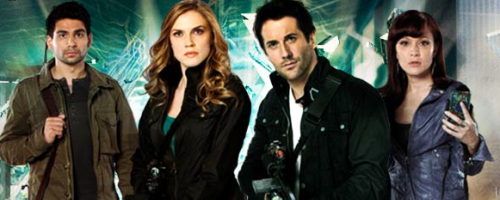 Primeval: New World takes a mid-season break and returns on Tuesday January 22 at 10 PM ET. There will be a marathon on December 28th showing all the episodes so far in case you're missing it too much.
Everybody loves Truth and no wonder. Read more opinions of it below:
CrimsonTear.com: "Truth" is the perfect episode to demonstrate how this series has taken the original Primeval concept and evolved it into something so much more realistic feeling and dramatic, and is definitely my new favourite episode of the series. All the cast and crew should be very proud of themselves! Read more
ScifiBulletin: There's some great acting on display from the entire team: Miranda Frigon, Danny Rahim and Crystal Lowe especially are thrown some curveballs by the script, and it's all held together by strong performances from Niall Matter and Sara Canning. Read more
DenOfGeek: Truth has been the best episode of the series yet, and one of three that really stand out so far from the eight. From the limited North American series I've seen so far, Primeval New World has shown itself to be similar to the series that last twenty episodes plus: setting up an intriguing plot line in episode one then not coming back to it until many episodes later. Read more
Tonight's Primeval: New World episode will air at 10E/7P on Space as usual. I've added some promotional stills to the gallery but they contain SPOILERS even if you've been watching the show. Don't click if you want to be surprised tonight.
Episode 8 – Truth

A Pachycephalosaurus shows up in the city, while Evan deals with the same Albertosaurus that killed his wife.
Primeval: New World – Promotional Stills – Episode Seven
Credit: ImpossiblePictures, Space & FarFarAwaySite.com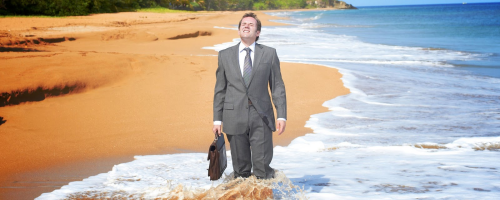 The second series of Death In Paradise starring Ben Miller (James Lester) will begin on January 8th at 9pm on BBC. The episode of James Murray (Stephen Hart) is not yet known but Hannah's appearance will be on February 12th.
Ben Miller will return for a second series of detective drama Death in Paradise on Tuesday 8 January at 9.00pm on BBC1.

Quintessentially English detective Richard Poole will be back with his investigative team to solve more murder mysteries on the idyllic Caribbean island of Sainte-Marie, this time with guest support from the likes of Stephanie Beacham, Michael Brandon, Tom Ward, Bryan Dick and – in her first role for TV – pop star Jamelia.

The first of eight episodes will see Poole probing the death of the owner of a former sugar plantation, who is discovered with a machete in his back.

Belinda Campbell, executive producer for Red Planet Pictures said of the new series: "We have a wonderful cast for Death in Paradise and our list of guest stars is equally exciting. Jamelia, in particular, was such a surprise find; she is not only a talented singer but actress too. The stories are full of humour and intrigue and hopefully the whole family will have fun trying to work out whodunnit each week. We can't wait to bring a bit of Caribbean sunshine back to the cold and wet UK!"

Series one of Death in Paradise, which was broadcast in late 2011, regularly attracted an audience in excess of six million. This second run of episodes was commissioned back in January 2012.
Source: RadioTimes
Here are the first reviews of the seventh Primeval: New World episode. It's my new favourite. Mac reminded me of Connor is many places.
CrimsonTear.com: Even though "Babes in the Woods" wasn't as suspenseful or action packed as the past episodes, it was great example of how a lighter and funnier episode can still be very entertaining when done right. Read more
ScifiBulletin: Finally, a word about the effects – there's a moment where the dino of the week runs through a puddle. Full marks to Mark Savela and the team for the finesse with which that worked. Read more
DenOfGeek: Babes In The Wood brings us to over the halfway mark of the series. So far Primeval New World has definitely been worth the watch with the CGI proving strong and the character development arguably better than the UK original, but the overall plotting and sense of drama seems considerably less than the series that inspired it. Read more