PRIMEVAL
Check your local TV listings

PRIMEVAL: NEW WORLD
Check your local TV listings
Thanks for taking part in our Primeval soundtrack competition! Read more about it and see the lucky winners here. Special thanks to MovieScore Media!
DVD: Volume Three
Out now
[Buy]

DVD: Series 1-5 Box Set
Out now
[Buy]

CD: Primeval Soundtrack
Out now
[Buy]

DVD: The Complete Series 5
Out now
[Buy]

DVD: The Complete Series 4
Out now
[Buy]

Primeval-Fans is a non-profit, unofficial Primeval fansite and not in contact with ITV, Impossible Pictures or the Primeval cast. The site created by fans, for fans. All pictures, videos and any other media belong to its original copyright holders and photographers. If you have any complaints or feel some of the material belongs to you please contact me before taking any action. Please read more here.

© Primeval-Fans 2010 - 2014
Just a little something to cheer you up:
QUOTE OF THE DAY

Lester: Well? Was the nuke disarmed in time?
Admiral: They, uh, they think so.
Lester: Oh. Well, that's reassuring, isn't it? If not, I think we know what caused the mass extinction of the dinosaurs.

S05E02
Andrew will attend the MCM London Comic Con on 25 – 26 October (Friday and Saturday). You can check out the full guess list here for further information.
Hannah Spearritt and Andrew Lee Potts confirmed on their official Twitter accounts that they have decided to end their seven year long relationship. Like they say, this should end all the speculations. I wish all the best to both of them.
Andrew Lee Potts chatted to Digital Spy about Primeval. They talked about the possible movie and more. A really nice interview:
Andrew-Lee Potts has said that the Primeval movie might still happen.

The science fiction drama ran for five series from 2007 to 2011, having been axed and recommissioned after its third run. A spin-off movie was first announced by ITV and Warner Bros in May 2009 but never came to pass.

"I think Warner Bros still have the rights to the movie," Potts told Digital Spy. "It would have been incredible and who knows, who knows?

"Dinosaurs went through a bit of a craze and maybe dinosaurs are quietening down for robots on the big screen at the moment, but you just know they'll always make a comeback."

He added: "You never know, it might happen a long while down the line when I'm an old man and I'll just make a cameo.

"To be honest, it was just pretty cool that Warners thought the show was good enough to buy the rights to it."

Potts said of the end of the show: "It made a big footprint. A dino-sized footprint. God, don't quote that.

"Obviously when a show gets successful, people think it should run for ages. And I do meet people daily, who ask when the new series is coming and that's really, really sweet."

He continued: "It was lovely to go out and bookend the Canadian series last year, that was a different experience, but the UK show feels like it was a quite long while in the past for me now.

"I loved the show and it was so much fun. It was such an exciting project because nobody knew it was going to work, and then suddenly we had action figures and it was selling all around the world. People seemed to really, really enjoy it and really connected with the characters.

"I guess for kids of a certain age it was a huge part of their childhood and it will stick with them because of that. Just like I don't forget Thundercats. Hopefully we made a big enough imprint in the sand that we'll last forever in people's memories."

Of the possibility of the show ever returning, Potts added: "Never say never about it coming back, but I don't think there's any plans to do it.

"We went out with a strong series and I'm content with that. It will always have a little spot in my heart."

Andrew-Lee Potts is currently starring in By Any Means, airing Sunday nights at 9pm on BBC One.
Source: Digital Spy
Andrew Lee Potts's very Connor-like character Thomas "TomTom" Hawkins will be seen in BBC One's new crime drama By Any Means starting on today Sunday at 9pm. It's also starring Warren Brown (Luther) and Shelley Conn (Terra Nova). Check out the official website here.
Here are some fan pictures of Hannah Spearritt at the MCM Scotland Comic Con courtesy of @lornamcg1234, @mivoung, @INVERNESSROSSIE and BitchingHitchen_. Many thanks!
Hannah will also be at at London Film and Comic Con Winter on October 5th (Saturday).
Hannah Spearritt – MCM Scotland Comic Con
Hannah Spearritt tweeted about Lucy Brown's project This Is Vanity. Would be great to see them work together again.
I hope all of you are already our fans and followers on Facebook and Twitter. We recently passed 1,000 Facebook likes and 1,500 followers, which feels absolutely wonderful. I know the main site is lacking updates at the moment but we're active almost every day on social media. Here's a taster of it:
Lester: Well, this could be tricky to explain to the next of kin. Good news, he's not technically dead. Bad news, he's turned into a mushroom.

-S03E5
Attention America, Primeval: New World premieres today at 10/9c on SyFy. SyFy's official site has been updated with photos (some new!), cast bios and dinosaur galleries. Check it all out and remember to watch it if you have a chance. Also, our very own Connor will be guest starring in today's episode.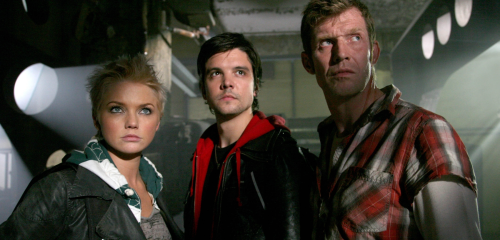 Just a little reminder of the London Comic Con on Saturday with Hannah Spearritt, Andrew Lee Potts and Jason Flemyng. Unfortunately Tony Curran (the knight from series 3) has cancelled his appearance. If you're going, feel free to share your pictures with us via Twitter, Facebook or e-mail.
Hannah and Andrew are confirmed to appear at the London Comic Con on Saturday 25th May. Jason Flemyng (Danny Quinn) will also be there on Friday and Saturday. For more information and to book your tickets, please visit their official website.
Primeval: New World hits the US screens on June 8th. It will be shown on Saturdays at 10/9c. Check out the trailer and a nice promo post below.
You can put dinosaurs in just about anything and we'll watch it, which is one reason why we're sharing this first look promo for Syfy's newest Original Series, "Primeval: New World," premiering June 8th. The remaining reasons? All the other creatures that come through the anomalies with them of course! Check it out.

Synopsis: The 13-episode "Primeval: New World" stars Niall Matter ("Eureka"), Sara Canning ("The Vampire Diaries"), and Danny Rahim ("Eastenders") as a team of animal experts and scientists investigating paranormal events while battling both prehistoric and futuristic creatures. Amanda Tapping, who starred in the Syfy series "Sanctuary" and is currently recurring on "Supernatural," directed several episodes.

Based on the original "Primeval" series from Impossible Pictures, the "Primeval: New World" creative team is led by executive producers Martin Wood ("Sanctuary," "Stargate: Atlantis") and Gillian Horvath ("Sanctuary," Highlander"). The spinoff was created by Judith and Garfield Reeves-Stevens ("Star Trek: Enterprise", Sir Arthur Conan Doyle's The Lost World)" and written by Gillian Horvath, Peter Hume ("Charmed," "Flash Gordon"), Jon Cooksey ("The Collector," "The Outer Limits"), Sarah Dodd ("Flashpoint," "Arctic Air"), Katherine Collins ("Endgame"), and Judith and Garfield Reeve-Stevens.
Source: DreadCentral.com
Here's 20 minute long video of Hannah and Andrew answering questions at the Wales Comic Con. I recommend using headphones while listening it in order to hear everything better. Many thanks to tarranreviews for uploading it!
Here's a bunch of pictures of Hannah and Andrew at the Wales Comic Con courtesy of Karen Woodham and Bonny Summers. They both look gorgeous!
Andrew Lee Potts – Wales Comic Con
Hannah Spearritt – Wales Comic Con
Credits: Karen Woodham and Bonny Summers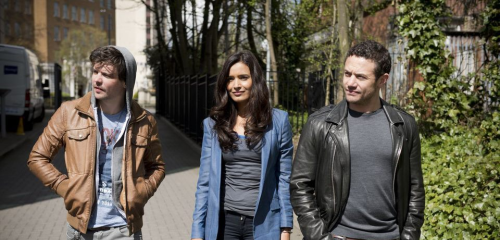 Very exciting news for Andrew Lee Potts fans. He'll be starring in BBC1′s new cop drama By Any Means. Their official press release can be read below and BBC has also published a first picture of it.
Filming has begun in Birmingham on BBC One's brand new drama, By Any Means, from Red Planet Pictures – the makers of hit series Death In Paradise.

The stellar ensemble cast is headed up by Warren Brown (Luther, Good Cop), Shelley Conn (Mistresses, Marchlands) and Andrew Lee Potts (Primeval, Ideal) and Gina McKee (The Borgias, In The Loop).

This original crime drama, created by a team of writers led by Tony Jordan (Hustle, Life On Mars), follows a clandestine police department living on the edge and playing the criminal elite at their own game. Living in the shadows and treading the fine line of the law, the maverick team bridge the grey area between the letter of the law and true justice.

Led by the sharp and elusive Jack Quinn (Brown), alongside straight-talking Jessica Jones (Conn) and digital whizz-kid Thomas Tomkins (Potts), the shadowy and brilliant team will stop at nothing to fight fire with fire. Using insider tip-offs from the mysterious Helen Barlow (McKee), the team weave a web of cunning and deception, so when the law can't take the criminal down, it's up to them to deliver their unwary targets into the arms of justice.

Other names who will appear in the series include Elliot Knight (Sinbad), John Henshaw (South Riding), Keith Allen (Robin Hood), Kate Dickie (Game Of Thrones), Neil Maskell (Utopia) and Martin Jarvis (The Girl With The Dragon Tattoo).

Commenting on his new role, Warren Brown said: "I'm thrilled and excited to be working on By Any Means. I loved Jack Quinn from the moment I read the script – he's a great character full of contradictions which I'm looking forward to bringing to life."

Belinda Campbell, Executive Producer for Red Planet Pictures, said: "By Any Means is a gripping and edgy drama, wonderfully crafted by our talented writing team. We're delighted to have such a strong line-up of talent both on and off screen to translate these intricate plots and characters. With the action taking place on the cusp of the law, it provides the perfect premise for dramatic scenes, surprise twists and turns in the plot, as well as brilliantly complex and rich characters."

Polly Hill, BBC Head of Independent Drama, said: "It's great to see such a strong cast come together to form this original team in By Any Means. Tony has created a maverick team which we think our BBC One audience will enjoy and this cast will brilliantly bring that to screen."

By Any Means is a Red Planet Pictures production for the BBC. The series was penned by a writing team comprising of Tony Jordan, Richard Zajdlic, James Payne, Jeff Povey and Richard Lazarus whose combined credits include Strike Back, New Tricks, This Life, Silent Witness, EastEnders and Ashes To Ashes amongst other projects.

Tony Jordan and Belinda Campbell are executive producers for Red Planet Pictures and Polly Hill for BBC One. Lead director for the series is Charles Palmer (Doctor Who); it is produced by Tim Key (Death In Paradise) and commissioned by Danny Cohen, Controller, BBC One, and Ben Stephenson, Controller, BBC Drama Commissioning.
Picture and story source: BBC