Primeval: New World
Canada - Space - Finished
Great Britain - Watch - Tuesdays at 9pm
Germany - ProSieben - Fridays at 22:50pm
America - Syfy - June 8th 2013


For Primeval reruns, check your local TV listings
Thanks for taking part in our Primeval soundtrack competition! Read more about it and see the lucky winners here. Special thanks to MovieScore Media!
DVD: Volume Three
Out now
[Buy]

DVD: Series 1-5 Box Set
Out now
[Buy]

CD: Primeval Soundtrack
Out now
[Buy]

DVD: The Complete Series 5
Out now
[Buy]

DVD: The Complete Series 4
Out now
[Buy]

Primeval-Fans is a non-profit, unofficial Primeval fansite and not in contact with ITV, Impossible Pictures or the Primeval cast. The site created by fans, for fans. All pictures, videos and any other media belong to its original copyright holders and photographers. If you have any complaints or feel some of the material belongs to you please contact me before taking any action. Please read more here.

© Primeval-Fans 2010 - 2013
The first reviews of Episode 13 are in. Some knew about the cancellation at the time, some didn't. Nevertheless, everyone enjoyed the season finale, which was one of the best I've ever seen.
CrimsonTear.com: Sadly this episode had all the "problems" that most season finale's have: huge excitement, massive advancements, great stories, characters oozing with feeling, and a colossal event at the end that leaves us wanting more. We want more, dammit, and we want it next week, not whenever the next season comes, if it comes. (Sigh) Read more
Impact Online: Potts brings in the awkward charm of Connor seen in the original show with a more pro-active and seasoned stance. Read more
DenofGeek: The Sound of Thunder (Part 2) was certainly one of the strongest episodes in the run. There was plenty of fan service in it with the return of Connor whose presence, advice, references to Abby were intrinsic to the plot and were balanced between pleasing the UK fans, not being too alienating to new viewers but equally making us wish we'd seen some of the events mentioned actually playing out on UK screens. Read more
SciFiBulletin: Soon
Primeval: New World has been cancelled after one season due to weak ratings. I'm really disappointed because especially the last episodes were super good and it had huge potential. BUT, a string of hope, the original series was cancelled after series 3 but brought back later. Fingers crossed for Cross & the team.
The Sara Canning-starring dino drama, a Canadian spinoff of the ITV sci-fi series, will not be returning to the network after a rookie-season run.

Canada's Space channel is not giving a second-season order to Primeval: New World, the local spinoff of the Primeval sci-fi series on ITV.

Space-parent Bell Media said it will not renew the Sara Canning and Neil Matter-starring dino drama from Omni Film Productions and British partner Impossible Pictures.

Weak ratings explain the decision to allow the Canadian-British co-production that used extensive elements from the British sci-fi drama to go the way of the dinosaurs on Space.

The series, which sees Canning play a predator-attack expert and Matter an inventor and visionary hero, is still to air on Syfy stateside after a sale by international distributor Entertainment One.
Source: HollywoodReporter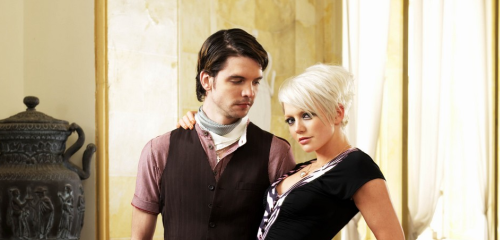 Hannah and Andrew are going to be at the Birmingham Comic Con on March 16th and 17th. According to their website, they will be there on both Saturday and Sunday.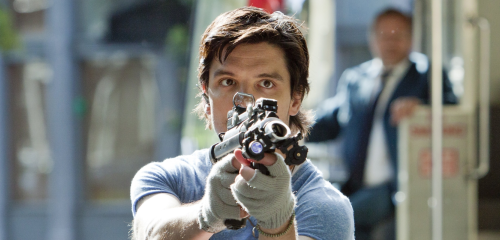 How did time go by so fast? It feels like the first PNW episode was just yesterday… Anyhow, the season finale airs tonight in Canada. The events and tensions have been building up and I'm sure we're going to have an excellent episode. What's more, Andrew Lee Potts (Connor Temple) will guest star in it, so plenty of reasons to watch. Let's hope we'll hear about a second season soon.
Episode Thirteen: The Sound Of Thunder (Part Two)

Connor Temple returns; Evan faces the Albertosaurus that killed his wife.
UK, don't forget to watch Primeval: New World tonight at 9pm on Watch. The episode is called Babes in the Woods and is one of my ultimate favourites, because it reminds me of the atmosphere in the original series.
Episode Seven: Babes in the Woods

An anomaly opens near the location of a photoshoot in a forest, where some of Toby's old friends are modelling, and leading to a photographer being killed by a dinosaur.
Images:
Primeval: New World – Screen captures – S01E07
Primeval: New World – Promotional Stills – Episode Seven
Reviews:
CrimsonTear.com: Even though "Babes in the Woods" wasn't as suspenseful or action packed as the past episodes, it was great example of how a lighter and funnier episode can still be very entertaining when done right. Read more
ScifiBulletin: Finally, a word about the effects – there's a moment where the dino of the week runs through a puddle. Full marks to Mark Savela and the team for the finesse with which that worked. Read more
DenOfGeek: Babes In The Wood brings us to over the halfway mark of the series. So far Primeval New World has definitely been worth the watch with the CGI proving strong and the character development arguably better than the UK original, but the overall plotting and sense of drama seems considerably less than the series that inspired it. Read more
SFX: This is a strong episode, with the perfect amount of fun, humour, action, dinosaurs, and naughtiness. We're at the half-way point of the first season, so let's hope they can keep it up. Read more
Check out these videos of Hannah and Andrew answering to fans' questions at the Midlands Comic Con. Many thanks to our friends Primeval Arcadians and Tracy!
I liked the question where one fan asked where they would go through an anomaly (the first question in the 2nd video). Hannah wants to go to the 60′s and Andrew to 2006, when they started filming Primeval.
The first reviews of Episode 12 are in. One reviewer calls it the best Primeval episode ever, including the original series. Do you agree?
CrimsonTear.com: So far 'The Sound of Thunder' is on track of being the best Primeval episode yet, including the original series. If this level of quality continues into the second part, it should make for an unforgettable season finale. Read more
Impact Online: Clearly the most ambitious episode to date, this is bigger in creative scope and visual canvas than any of the outings to date. Read more
DenofGeek: The Sound of Thunder (Part 1) borrows heavily from the old series but does build a bigger sense of scale around them with plenty of tangible fear and danger. Read more
SciFiBulletin: Soon
Check out Connor in the Primeval: New World season finale but beware of spoilers. I can't wait till Tuesday.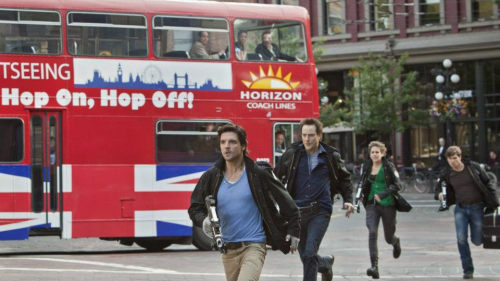 Here are some screen captures of yesterday's Death In Paradise episode (2×06). It was great to see the Primeval stars together. I hope it's alright to say that Stabby fans might get some nice memories.
Ben Miller – Death In Paradise – Screen captures
Hannah Spearritt – Death In Paradise – Screen captures
James Murray – Death In Paradise – Screen captures
Tonight's Primeval: New World episode, The Sound Of Thunder, is the first part of the season finale. Next week we'll see the return of our very own Connor Temple.
Episode Twelve: The Sound Of Thunder

Evan and Dylan must chase a Brontoscorpio through the Anomaly to get a sample of its venom after Toby is stung.
Don't forget to watch episode six, Clean Up on Aisle Three, tonight at 9pm on Watch.
Episode Six: Clean Up on Aisle Three

The team searches for a cunning pack of daemonosaurus after a security guard is killed in a home and garden store.
Images:
Primeval: New World – Screen captures – S01E06
Primeval: New World – Promotional Stills – S01E06
Reviews:
CrimsonTear.com: Overall, "Clean up on Aisle Three" was entertaining and fun, while setting up the possibility of huge changes for the future. Read more
SciFiBulletin: Chances are you'll want wontons when you've finished seeing this – which will make sense – and regret that we're already nearly halfway through what has to be just the debut season. Read more
DenofGeek: In conclusion, a fun drama-based episode that saw the personalities of the team shifting and deepening, supported by a basic, but enjoyable, creature hunt. Not the strongest episode, but not the weakest, and with just a few more feelings of a sense of direction permeating through the episodes, it should be on a good track to the season finale. Read more
SFX: We're almost half way through the series and there's still the frozen body in the freezer to name, and finding the whereabouts of the Terror Bird that Leed's kidnapped. This is just the beginning, and it's been a pretty good start. Read more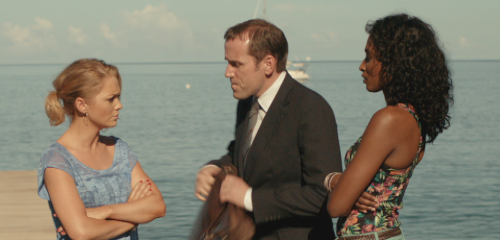 Tonight's Death In Paradise episode is packed with Primeval cast. Besides Ben Miller (James Lester) we'll see Hannah Spearritt (Abby Maitland) as Lily Shaw and James Murray (Stephen Hart) as Ronnie. Watch it at 9pm on BBC1.
An English tourist is strangled in her villa by a killer using the victim's scarf. The crime scene indicates a robbery gone wrong, but DI Poole recalls an almost identical case back in London. He grows even more suspicious when the victim's husband turns out to be crooked former colleague Doug Anderson, a name he had hoped was consigned to the past. But even though he has a watertight alibi and the team move on to further leads, Poole can't shake the notion that his old adversary is somehow involved. Ben Miller stars, with guest appearances from Neil Pearson, Ralf Little and Miller's former Primeval co-stars Hannah Spearritt and James Murray.
These are the first reviews of The Inquisition, more to follow soon:
CrimsonTear.com: 'The Inquisition' wouldn't have been anything if not for the amazing quality of the acting. Read more
ImpactOnline: The fact is that though there's information in spades and some interesting debate-worthy motivations revealed, this is very much all setup for what's to come, getting people where they need to be and dusting off the toy-box for playtime. Read more
DenofGeek: The Inquisition was another strong episode, different from what we've had before, and though there's a big feeling of familiarity with its plotting, is building up week-on-week to concentrate on the overall plot. Read more
SciFiBulletin.com: It may not have the fast-paced action of some of the earlier instalments of the series, but this episode is, in many ways, the most 'adult' and most different from the British original. Read more